Climbing chalk is absolutely essential for all types of climbing, but opinion differs on which type is best. For those after some liquid chalk for their next climb, we'll help you understand the differences between the different types of chalk, and get your hands on the best liquid chalk for climbers.
Let's get to it.
What is climbing chalk?
Climbing chalk is any chalk used by climbers to increase grip and reduce sweat on the hands during climbs.
There are 4 main types of climbing chalk. While this article is designed to help you find the best liquid climbing chalk, it's important to understand the other types of chalk available to climbers, and how they compare.
Blocks of Chalk
Magnesium carbonate or blocks of chalks are routinely used in gymnastics or rock climbing to keep hands dry. Composed solely of magnesium carbonate without any additives, these blocks of chalk are generally available in packs of eight; however, you will find some stores selling them in single blocks.
You can buy a block of chalk and crush it inside your chalk bag. Put the crushed pieces in your chalk bag and the uncrushed ones in a zipped plastic pocket and use them to refill your chalk bag.
If you're interested in block chalk, take a look at our guide to the best chalk buckets for bouldering.
Powdered Chalk
You can also buy ready-made crushed chalk, which you can simply pour inside your chalk bag. Some manufacturers particularly make powdered chalk for climbers to keep hands dry to ensure a stronger grip. However, powdered chalk will be pricier than blocks of chalk. They also tend to be messier and spills quickly. Because of this, you have to make sure your bag doesn't over-spill.
Powder chalk is, however, prohibited in many indoor gyms since they tend to clog the ventilation system as well as the climber's lungs. Powdered chalks are available in a bottle or durable resealable bags.
Chalk Balls
They are tiny sacks composed of a porous mesh material filled with powdered chalk and sewn. For indoor training, powdered chalks are the most preferred. Most indoor climbing gyms recommend the use of chalk balls since they can be easily applied.
With chalk balls, there are fewer chances of chalk dust, and it is also less likely to spill.
Sometimes it can be tricky to apply chalk to your hands from a ball, but generally, in gyms, it's not a problem since many routes are short. When climbing outside, some climbers prefer chalk ball but also carry loose chalk to dip their hands and get a full chalk coating quickly. Compared to loose chalk, chalk balls are also more durable.
Liquid Chalk
It's a particular type of chalk specifically created for climbers for use in indoor facilities or at the gym. It is effortless to use; all you have to do is squirt the product in your hands and spread it all over and wait for it to dry. After the alcohol completely dries off, a chalk layer will cover your hand.
It is recommended to use liquid chalk before your bouldering or climbing session. Many climbers also prefer to combine a small amount of regular chalk with liquid chalk.
It is effortless to apply liquid chalk, is more durable, prevents chalk dust, and works more efficiently as it does not require you to dip your hands continuously inside the chalk bag. It also leaves less residue, and since you don't have to dip inside your chalk bag as often, it is even more preferred in competitions.
What's the Difference Between Liquid Chalk and Chalk Balls?
With liquid chalk, you just have to spray it all over your hands, whereas with chalk balls you will have to rub them onto your hands to get a decent coverage. It is more challenging to get chalk into your hands with chalk balls. Liquid chalk is also less messy and lasts longer.
What Are the Pros and Cons of Liquid Chalk?
Pros:
• Not as messy
• Requires less dipping
• Lasts longer
• Works more effectively in keeping hands dry
Cons:
• You cannot use a huge amount the way you can with regular chalk
• Tends to leave residue on bars
What Are the Pros and Cons of Chalk Balls?
Pros:
• Minimizes chalk dust
• Easier to apply
• Compared to regular chalk, they last longer
Cons:
• Can be challenging to get a decent coat
Liquid chalk FAQs
Is Liquid Chalk Good For Climbing?
Liquid chalk is preferred by a lot of climbers for various reasons. Thanks to its quick nature, many climbers use liquid chalk to start their climbs quickly, Additionally, since it is very easy to distribute, most climbers prefer liquid chalk as they can get an even coat. So, it makes an excellent choice for climbing.
Liquid chalk is excellent for climbing because of the dryness effect it provides for gripping. A large number of climbers prefer liquid chalk over any other type of chalk. It is also very easy to spread, and a small amount goes a long way. There are also zero dust clouds making it perfect for indoor gyms.
Is Liquid Chalk Bad For You?
Liquid chalk isn't perfect. A constant complaint against liquid chalk is that it dries out the climber's hands too aggressively. This may be a good thing while climbing, but it can often hamper their daily lives. The presence of alcohol is what causes the excessive dryness. Because of this, many climbers often resort to combining the liquid with a small amount of dry chalk; this lessens the risks of liquid chalk.
Make sure that you routinely moisturize your hands to combat the ill effects of liquid chalk.
Does Chalk Dry Out Your Hands?
Drying out the hands is literally the purpose of chalk while climbing, so the short answer is Yes! It does dry out the hands. In order to combat this, make sure you use a lotion religiously whenever you are not climbing. Powder/blocks tend to be less drying in comparison to liquid chalk.
Do You Need Chalk For Bouldering?
Yes, you need chalk while bouldering. Chalk is required to dry out the hands when you climb so that you can obtain a stronger grip. The amount of chalk you require depends on yourself. If you do not sweat as much as other people, you will need only a minimum amount.
Can You Fly With Climbing Chalk?
Generally, this shouldn't be a problem. You can carry climbing chalk with your carry-on luggage. However, consult your airplane before your date of departure.
Does Liquid Chalk Expire?
Even if your chalk has an expiration date, it won't stop being chalk and change into something else. Chalk doesn't work like food, so they can be used for a long time.
With liquid chalk, you will notice that they can dry up if you don't put them in an airtight container. So make sure you store them right.
Liquid Chalk Reviews
Black Diamond Liquid Chalk Review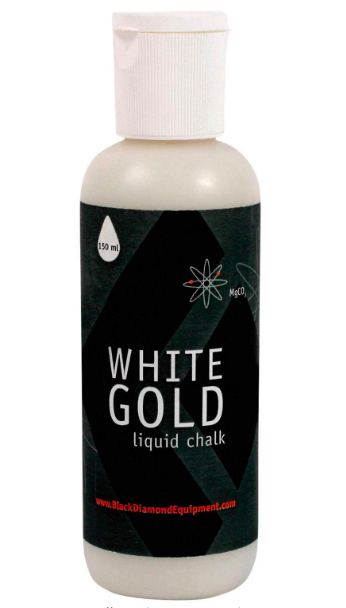 Many climbers swear by Black Diamond Liquid Chalk. Due to its dust-free composition, it is suitable for humid conditions, red points, or indoor gyms. Its no-mess and non-toxic coating ensure that your hands are completely dry for the best grip possible. If you lift weights, this liquid chalk will work like a magnet and will stay on for a long time.
Just apply and let it dry off. This chalk is very suitable for cables, free weight, deadlifts, etc. A little goes a long way, so this chalk will last you a very long time. It is also very easy to spread on your hands, making it perfect for quick climbs; the non-toxic composition also makes it gentle on your skin.
Pros:
• Non-toxic
• Lasts long
• Easy to spread
• Less messy than traditional chalk
Cons:
• Takes time to dry off
• Can be drying
Midas Liquid Chalk Review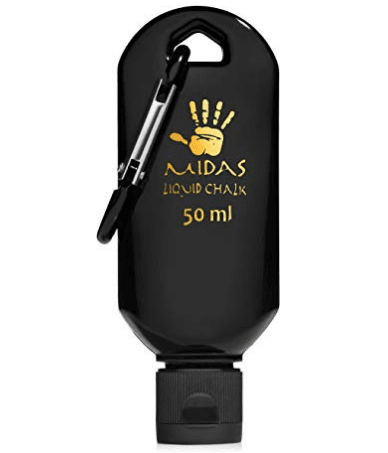 Even though it was initially marketed towards weight lifting enthusiasts, Midas Liquid Chalk is still highly adored by climbers. It comes in a small 50ml bottle if you plan on traveling light and a much larger 200ml for your gym sessions when weight is not an issue.
One of the best selling features of Midas is that it tends to go a little bit further, you need just a tiny amount to get a full coat over your hands. It is also antibacterial, so you don't have to worry about germs, it is safe to use and will ensure that your workout is healthy.
It is suitable for weightlifting, tennis, rock climbing, and gymnastics for obtaining a secure grip. Thanks to its mess-free application, your home, or your gym will have a clean environment.
You don't have to re-apply as often as you would with traditional chalk. It dries quickly and ensures that your grip is as long-lasting as you want. It is also sweat-proof, making it a good choice for sweaty athletes. Being liquid means you can use it indoor and not worry about clouds of dust.
For climbing and weight lifting, this liquid chalk from Midas is a good choice.
Pros:
• Excellent grip
• Sweat-proof
• Antibacterial
• Can be carried around easily
Cons:
• Can rub off on gym equipment
• Coloring may put off some people
Fit Grip Liquid Chalk Review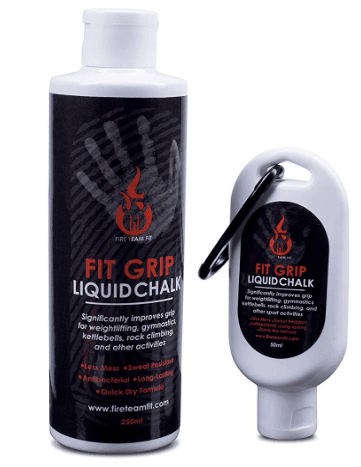 Fit Grip Liquid Chalk is portable, less messy, and also generates less waste compared to traditional chalk. If you want to use chalk at your gym or maybe at home without creating a huge mess, then the Fit Grip chalk is a brilliant choice. You can use it as much as you want without worrying about the environment.
It also dries out very quickly, making it perfect for quick sessions, and the sweat-proof formula ensures that your grip lasts a very long time. If you are into obstacles and weightlifting, it can't get any better than this. Thanks to its antibacterial properties, not only does this chalk provide a stronger grip, but you will also get a good grip. It keeps your hands germ free.
It is a fantastic product if you want chalk for gymnastics, climbing, weight lifting, deadlifts, pull-ups, kettlebells, and many other activities. Many customers swear that they were able to enhance their deadlifts by 20% thanks to the additional grip.
Unlike traditional chalk, you don't have to re-apply it as often. It will provide you with a much longer grip in just a single application. After the chalk has dried up, it will stick very tightly and offer you a long-lasting hold.
Application is quite easy, and spreads evenly for an even coating all over your hand. It also dries quickly if you are someone that prefers quick sessions.
Pros:
• Dries super quickly
• Antibacterial
• Easy to apply
• Sweat-proof
Cons:
• Can flake off
• Packaging lid tends to break off
• Challenging to get the product out of packaging after a few months
Friction Labs Secret Stuff Chalk Cream Review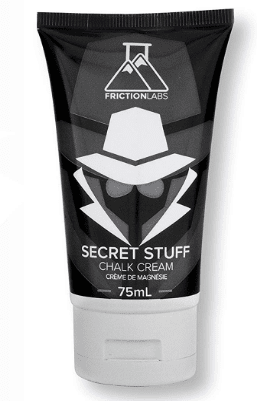 Fiction Labs Secret Stuff Chalk Cream not only offers you a firm grip but also prevents your hand from excessive drying and cracking. It is also sweat-proof and resistant against rain, oils, and humidity, so you can use it virtually anywhere. Thanks to being silica free, it is gentle and safe for your hands and moisturizes your hands as well.
It is also non-toxic and is safe even for children. You can use it for both outdoor and indoor activities, including weight lifting, rock climbing, hang board training, bouldering, kettlebell, cross fit, powerlifting, and many other sports.
This chalk cream is mess-free; the antibacterial properties ensure you have a secure grip and delivers the chalk deep into your hands. It will last you for a very long time; the company claims that a single bottle can last at least 100 uses. Whether you want to use it as a beginning layer, mid-session refresh, or a complete chalk replacement, this liquid chalk is easily one of the best you could find.
Pros:
• Antibacterial
• Lasts for ages
• Resistant to humidity and sweat
• Great for a lot of activities
• Provides strong grip
Cons:
• May dry off before getting an even coat
• Texture is too soft which may make it less grippy
• Not very effective for powerlifting
SPORTMEDIQ Pro Grade Liquid Chalk Review

The premium quality SPORTMEDIQ Pro Grade Liquid Chalk has been specially created to provide an excellent grip on walls, weights, and any solid surface. It is also mess-free, so you don't have to worry about dirtying your clothes or gym equipment. Whether you want to use it at your gym or home, you can get effective results.
It is also easily portable with a backpack clip or a belt. All you need is a few drops for an even coat, and it takes barely 30 seconds to completely dry off. This liquid chalk is composed of materials that are not harsh on your body and possesses a light fragrance which is nice.
Pros
• Good for the environment
• Dries off quickly
• Great for quick sessions
• A tiny amount goes a long way
• Made of safe ingredients
Cons:
• Can flake off
• Lasts only 50 uses
Wrap Up
Now you know more than most about using liquid chalk for climbing. Don't forget to look at some of our other guides if you need to find the best climbing shoes for beginners, or the best hangboard to train on.