A chalk bucket is best when it absorbs all the moisture from your hands when bouldering or climbing. It keeps you dry and improves grip, helping you climb your best. We've broken down the most popular chalk bucket FAQs and tips for finding the right chalk bucket for your next climb.
Whether you're looking for the best value standard bucket of chalk, or the best designed bucket with room for more than just chalk, we've got you covered.
Let's get to it.
Quick Answer: Best Chalk Bucket for Bouldering
What is a chalk bucket?
A chalk bucket is used for containing chalk for climbers. Its primary job is to hold a large quantity of the product. Sometimes they can also hold small items, climbing brush, and prevent the rest of your gear from getting covered with chalk.
Chalk buckets offer two advantages:
Firstly, they hold significant amounts of chalk, and the access is more comfortable, gives better coverage, and you can cover both your hands at once.
Secondly, you will waste less chalk. Since you will be applying chalk inside the bucket, the excess will just fall back into the bucket. You will be surprised at the amount of chalk you have saved.
How Do You Use Loose Chalk for Climbing?
All you have to do is pour the chalk over your hands from the chalk bag to get a good coverage for bouldering. However, a major con of loose chalk is that it can often be messy and there is a lot of spill over. This can not only result in wastage of chalk but also your money. Not only that, but it can also dirty up your gym or home.
Keeping this in mind, it is recommended that you carry your loose chalk in a chalk bucket. They will significantly reduce the loss of chalk and at the same time, make it easier for you to apply it over your hands. Not just that, but it will also prevent spillage as your hands will be inside the bucket when you coat, and as a result, you will be saving money as well.
Why Use a Chalk Bucket Instead of a Chalk Bag?
The biggest advantage of a chalk bucket over a bag is that it can hold a higher quantity. It can also support small tools for climbing. Unlike a bag, the bucket will not fall over or cause spillage. Since there is very little wastage, you will be using a single chalk bucket for a very long time. Using a bucket also helps you to coat your hands sufficiently. Particularly for bouldering, many climbers prefer to use chalk bucket.
Chalk buckets are great for quick sessions, especially if you are in the middle of an intense bouldering session. A chalk bucket is also very versatile and can be used both indoors and outdoors.
Does chalk really help you when climbing?
For climbers, even the tiniest bit of moisture in their hands can make a big difference between failure and success. Because of this, climbers resort to chalk to dry out the moisture and sweat in their hands so that they can get a stronger grip. Magnesium carbonate is the main ingredient in most climbing chalk. A good chalk is almost compulsory for bouldering or climbing, particularly if you are trying to cover intense heights.
If you are a very sweaty person, it may be impossible for you to carry out bouldering without any chalk. Chalk is necessary if you want to indulge in heavy bouldering sessions.
Bouldering Chalk Bucket Reviews
Salty Lance 2 lb. Gym Chalk Bucket Review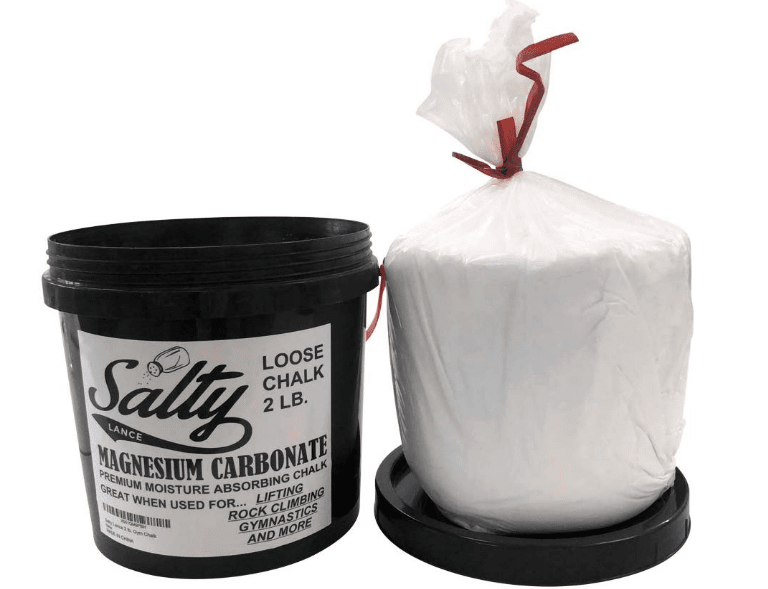 The Salty Lance Chalk Bucket is made from premium 100% magnesium carbonate to provide you with optimal absorption rate. This makes it an excellent option for bouldering enthusiasts. There aren't many chalks that contain 100% magnesium carbonate, which provided the best results for gripping, so if you are in the market for a pure magnesium carbonate chalk, then this will be an excellent option.
Thanks to its excellent absorption feature, it is useful for several activities like powerlifting, CrossFit, Gymnastics, rock climbing, and bouldering. It will drastically improve your grip so that you never make a mistake. This Salty lance Gym Chalk Bucket is tough on moisture; it will eliminate and remove moisture as soon as you coat your hands with it. It also stays put for a long time compared to many similar products.
Thanks to its container, you can easily and quickly coat both your hands with a full coverage making it excellent for quick climbs or training sessions. You also do not have to worry about spills or wastage; this bucket chalk will take you a long way.
The product comes in a large 2lb bucket which is completely filled to the brim, so you don't have to keep refilling it frequently. A single bucket will last you for months. It is also affordable, and is perfect for the budget buyers. If you are looking to try out a chalk bucket for the first time, this can be a steal.
The huge bucket, magnesium carbonate, and the low price point will win over a lot of customers and particularly beginners. It is a great option for any sort of activity that requires chalk whether outdoors or indoors.
Main Features:
• 100% magnesium carbonate
• Suitable for bouldering, rock climbing, powerlifting, cross-fit, and gymnastics
• A completely filled 2lb bucket
Pros:
• Absorbs moisture effectively
• Affordable
• Large 2lb bucket
• Great for beginners
• Coats quickly
• Soft texture
Cons:
• Can be messy
• The texture may not be the best choice for some climbers
Primo 1 lb. Chalk Bucket Review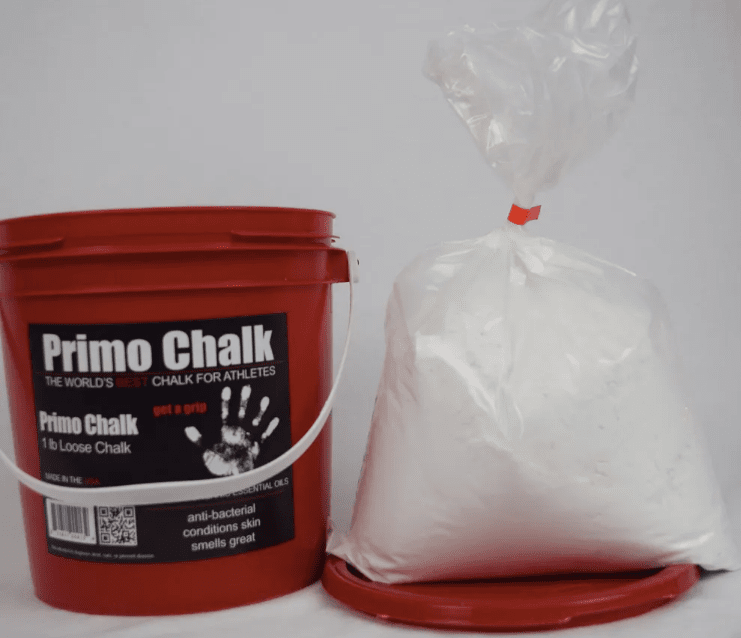 If you are someone that loathes the idea of sharing gym equipment and is a germophobe or you continuously sterilize your hands, then the Primo Chalk Bucket is the perfect option for you. It is naturally antibacterial, which means that you don't have to be paranoid about sharing your gym equipment as it naturally disinfects your hands.
Chalks can often be very drying, which is suitable for climbing but can be a boon in your day to day life. With this chalk bucket, you will not have this problem. It will give you a solid grip, but the essential oils present will make sure your hands stay nourished and moisturized throughout. It not only strengthens your grip but also prevents slippage during your climbing or training sessions.
You need only a generous amount to get a full coverage on both your hands and as such, you will be using this bucket for a very long time. It lasts much longer than other gym chalks. Thanks to its super fine texture, the chalk will sip into every part of your hand and will stay put for a long time, which means you will be using a lot less and saving a whole lot of money even in comparison to very cheap chalks.
Because of the presence of essential oils and Epsom salt, it will lessen callus build-up and nourish your skin at the same time. It is also free from harmful toxins, dioxins, and heavy metals, and it is manufactured using state-of-the-art laboratory to ensure the maximum safety standards. It is also completely free from fillers or gluten. This chalk has been created through consultation with industry-leading experts.
A solid choice for those who want to get a chalk bucket that not only provides a strong grip but is also safe and healthy on your skin.
Main Features:
• Contains essential oils
• Naturally antibacterial
• Available in 6, and 16 ounces and 1 and 6 pounds.
• Contains clean magnesium carbonate
Pros:
• Stays on hands for a very long time
• Has a delightful smell
• Fine texture
• Provides excellent coverage
Cons:
• Pricier than other brands
DMM Edge Chalk Bucket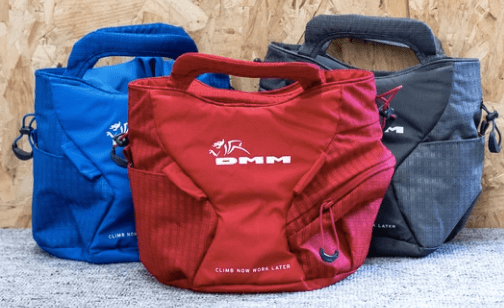 The DMM Edge chalk bucket is an all-rounder. It has excellent features, a chalk well that is big and deep, and one of the best closures you could find in any chalk bucket. The edge is very different in the sense that it possesses not a single but double drawstring. Positioned on both sides of the carrying handles, these strings close the apertures of fabric located at the top of the chalk well.
When the bag is zipped tight, there is very little chance for the chalk to fall off. If you want a full proof chalk bag, this one from DMM should be your top pick.
A soft pile fleece nicely covers the inside of the Edge chalk bucket. The chalk will stick to the sides, which allows you to receive an excellent coverage regardless of where you grab. The well is spacious and it can easily stand on its own, which is quiet convenient for you as you can get easy access.
This bucket also supports two pockets and two brush slots. Both the pockets are spacious and will be adequate for storing many accessories like your smartphone or your keys. The bucket is sturdy and will last you a very long time. It is has a vibrant design and is specifically made to prevent spillage.
The ample storage makes it a widely sought-after bag among climbers and boulders. Particularly for bouldering, larger-sized bags are preferred. It is big enough to hold a large quantity and even large enough to share with your friends. This bucket can stand in an upright position, and thanks to the chunky handles, you will have no problems carrying it between sessions.
And thanks to its chalk proof closure, you don't have to worry about the powder falling over or spilling.
Main Features:
• The base prevents spillage and keeps it at a bare minimum
• Hoop and loop pocket
• Chalk proof fastenings for quick closure
• Includes four brushes
• The pile lining makes chalking more effective
Pros:
• Considerable size and super convenient chalk bag
• Soft lining
• Supports extra pockets to hold additional tools or smartphone
• The dual drawstrings contain chalk securely
• Available in bold, vibrant colors, so you do not have to be worried about bags getting mixed up
Cons:
• The brush holder is a bit small to fit many brushes
• A bit on the pricier side
Psychi Chalk Bouldering Bucket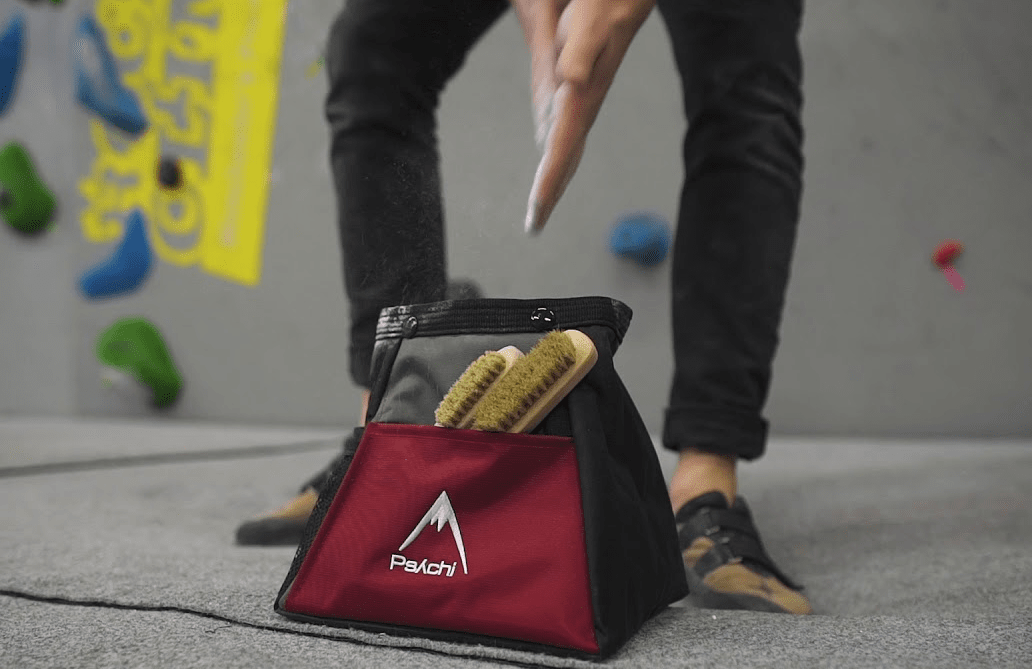 The Psychi Bouldering Chalk Bucket comes with a broad base for enhanced stability while traveling and carrying your climbing tools and accessories. It comes with just one grap handle which is situated at the rear as well as a zipped pocket where you can store valuables such as your smartphone, money, tape, and keys. There is a looped handle at the front of the bag to store your bouldering brushes. This one comes packed with features which are genuinely beneficial for bouldering lovers.
One of the most loved features about this bag is its large opening, which allows you to quickly dip your hands into the bag for coating and can be effectively used both outdoors and indoors. It is a great feature that can be advantageous when you are looking for a quick climb or training session.
The bag is manufactured with an excellent fleece lining, to store any loose chalk and is safely secured with a toggle fastening. This makes an easy opening for chalking and prevents any spillage. It is available in five vibrant colors. The show stopping colors makes for a great fashion statement and also prevents the possibility of confusing your bucket with someone else's.
Many bouldering enthusiasts absolutely adore this bag because of its large storage capacity, which makes room for bouldering accessories like brushes, finger tapes, and many others. Thanks to the broad toggle, it is easy to access the chalk while you are in the middle of an exciting but challenging climb.
Climbing chalks does not come cheap, and you should make every effort you can to minimize the amount of spillage. With this awesome chalk bag from Psychi, you can rest assured that every single one of your sessions will be spill-free.
Main Features:
• Comfortable fleece lining
• Comes with 2.5m tape, double-sided wooden brush, and 100g loose chalk
• Grab handle allows for enhanced portability
• Tight stud closure prevents spillage
Pros:
• Various pockets to store many bouldering accessories
• The top of the bucket is very secure
• Provides everything necessary to get started
• Great for beginners as well as novice
• The rhomboid base makes it possible for the bag to stand by itself
• Five vibrant colors
• Value for money
Cons:
• The phone pockets could be small for some smartphone models
Wrap Up
Now you know how to choose the best chalk bucket for your next bouldering adventure. If you also need some new shoes, don't forget to check out our guide to the best bouldering shoes.