Whether  indoors or outdoors, bouldering is one of the simplest forms of rock climbing to get started with. You only need your body, a bag of chalk (for those sweaty palms!) and reliable pair of bouldering shoes. If you need your first pair of bouldering shoes, or are looking to upgrade your worn out pair, we've got you covered. Keep reading to learn more about the different types of bouldering shoes for your climbing style, which shoes can help and hinder your climb and recommendations and reviews for the top-selling and best-rated pairs on the market in 2021.
Short Answer: Best Bouldering Shoes (2021)
What is bouldering?
Bouldering is the purest form of rock climbing. Your challenge is to climb without any equipment and use only your strength, balance and mind. All you have is your climbing shoes and a chalk bag.
These types of climbs are not higher than four meters, but don't be fooled into thinking it's too easy: bouldering is more about the difficulty than the height. Bouldering is a great vertical and physical strategy game that you can enjoy on your own or with family and friends.
Why do you need special bouldering shoes?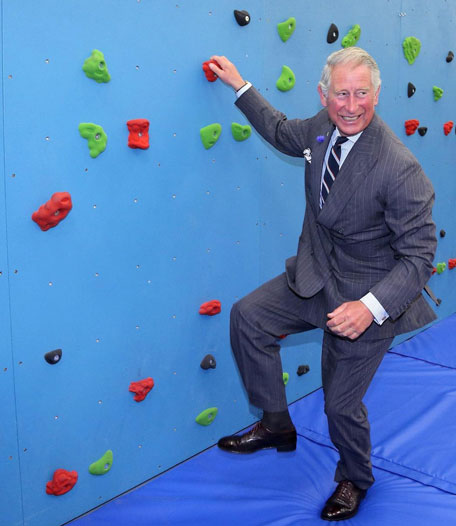 Bouldering shoes are critical for vertical stone climbing. This is the only gear you have besides a bag of chalk so you might want to invest in a good pair for your own safety. The snug, high performance shoes will give support and protection to your feet. The soles of bouldering shoes are made from 'sticky rubber' to provide high level traction so that you can stand on vertical blank rock without slipping.
They won't slide around on your feet like regular shoes, and they offer an edging stability so that you won't have to rely solely on the rigidity of your foot.
According to official USA Climbing rulebook, there are no rules about what shoes you can and can't use for the sport. It's up to you to pick the best shoes for comfort and performance.
What's the difference between rock climbing shoes and bouldering shoes?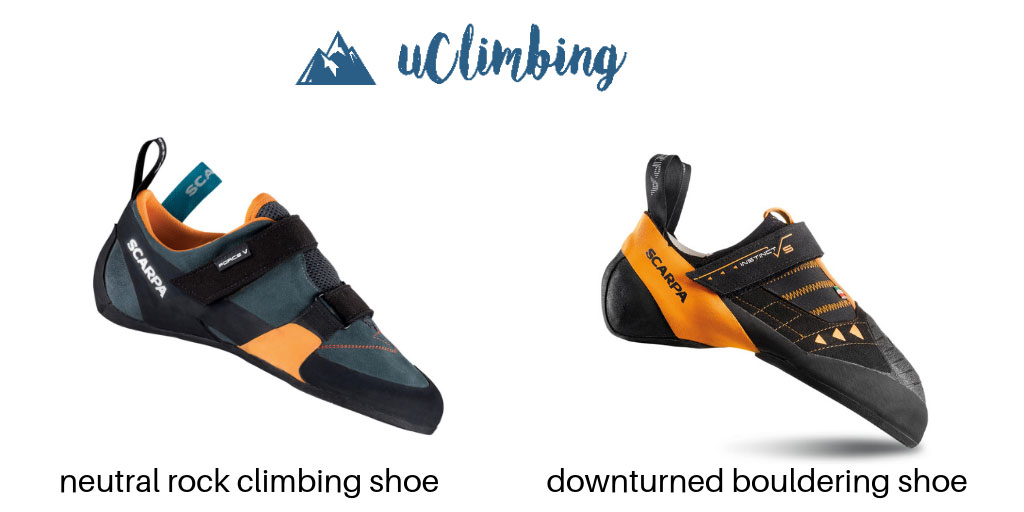 Rock climbing shoe is an umbrella term that covers different types of climbing shoes. Each type of shoe serves a different purpose. Some are made for challenging and advanced climbs while some can be worn for virtually anything like running errands or going out with friends. Generally, there are three types of climbing shoes: neutral, moderate and aggressive. Each design is meant to help you climb different types of surfaces.
Bouldering usually calls for the most aggressive rock climbing shoes in order to tackle the most challenging climbs. You'll want a shoe with a downturned design and extra heel tension. Most bouldering shoes have a thick rubber outsole with lined leather or synthetic material. This will ensure that your shoe doesn't stretch a lot and gives you the power to be able to quickly strap in and out.
Different types of bouldering shoes
Typically, you will need downturned climbing shoes for bouldering. This will keep your feet at a downturned position to be able to scale steep slopes without difficulty.
Indoor vs outdoor bouldering shoes
Indoor bouldering is different from outdoor bouldering, and you need different shoes for it.
Indoor bouldering shoes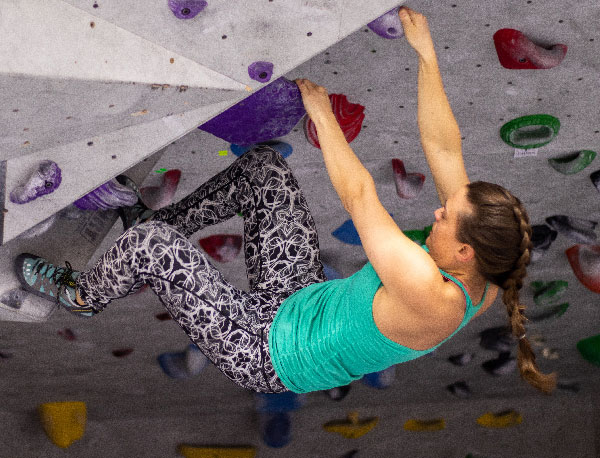 Indoor bouldering shoes are slightly downturned, soft shoes which can heel-hook and toe-in. The outsoles are made of sticky, thin rubber to give you a better grip and increased sensitivity so that you can feel what is underneath your foot. The downturned shape gives more power to your feet. It keeps your toes pointed down and also enables you to push up with strength and fit your toes into crevasses and cracks.
Outdoor bouldering shoes
For outdoor bouldering, you should definitely go for a more performance-oriented shoe that will be able to resist any abrasions on the rock. Since outdoor bouldering has challenging vertical walls and slabs, these types of shoes come with good edging and smearing. There are real consequences at stake like a ground fall, and so you should not compromise on quality.
Can you get bouldering shoes for both indoor and outdoor use?
If you plan to do a mixture of indoor and outdoor bouldering, you can find an all-round pair of climbing shoes that will work for both, but bear in mind that the natural rock faces on outdoor climbs will wear out the shoes much quicker.
Bouldering shoe features to look for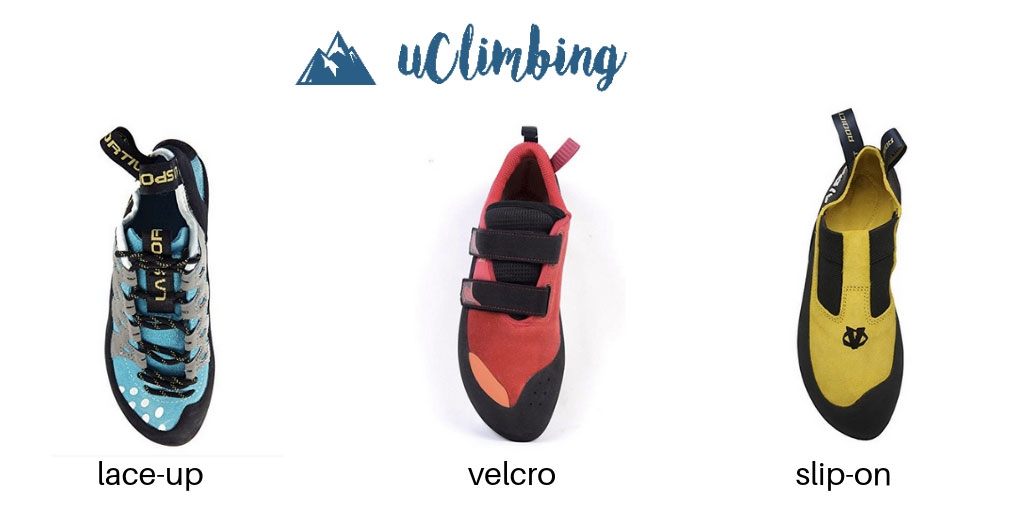 Lace-up climbing shoes
The biggest advantage of lace-up climbing shoes is that they provides the most security. You can tie them several times to avoid the risk of having them come undone when you are half-way up the climb. It also gives more room to adjust if you have feet with irregular dimensions.
Pros:
Comfortable enough to be worn for long periods
More secure especially on high, steep climbs
Cons:
Time consuming while putting on and taking off
Velcro climbing shoes
Velcro climbing shoes offer the best of lace-ups and slip-on. It offers a faster on-offs than lace-ups and more closure than a slipper. They are not too hard neither are they too soft. Basically, this one is an all-rounder.
Pros:
Offers the best of lace-ups and slip-on
Offers a good blend of performance and comfort
Cons:
There is a chance that it could give out when climbing
Prone to stretching out
Slip-on climbing shoes
These types of climbing shoes provide an easy slip on and off. They are generally more supple as there are no barriers that hinder flexibility. It is ideal for technical maneuverings.
Pros:
Easy to put on and take off
Comfortable
Cons:
Difficult to adjust fit due to lack of closure
May slip off mid-climb
TIP: you can turn any lace-up pair of climbing shoes into slip-ons by adding elastic laces.
Thin soles vs thick soles
Thin soles typically have a thickness of 3 to 4mm. Thin soles give you more sensitivity which makes it possible for you to feel the surface better beneath your feet. These types of soles are ideal for smearing and tackling slabs.
Pros:
Gives you heightened sensitivity and better grip
Cons:
Thin soles are less durable
Thick soles typically measure between 4 to 5.5 mm. Since they are thick, they are more durable and will last longer. These types of soles are great for getting the support that is needed for edging.
Pros:
Firm rubber provides optimal support to the feet
Cons:
Reduces sensitivity on the foot
How tight should bouldering shoes be?
Bouldering and climbing shoes, in general, need to be tight-fitting. It should feel snug at the feet, just like a firm handshake but not so tight that it pinches at your feet. Ideally, it should not take your attention away from your climbing because it hurts.
The snug fit will leave no room for your feet to move around which could affect your climbing.
Pros:
Snug fit leaves no room for feet to move around inside the shoe
Tight-fit shoes make it easier to maneuver yourself around
Cons:
Might feel uncomfortable during the first few wears
What are bouldering shoes made from?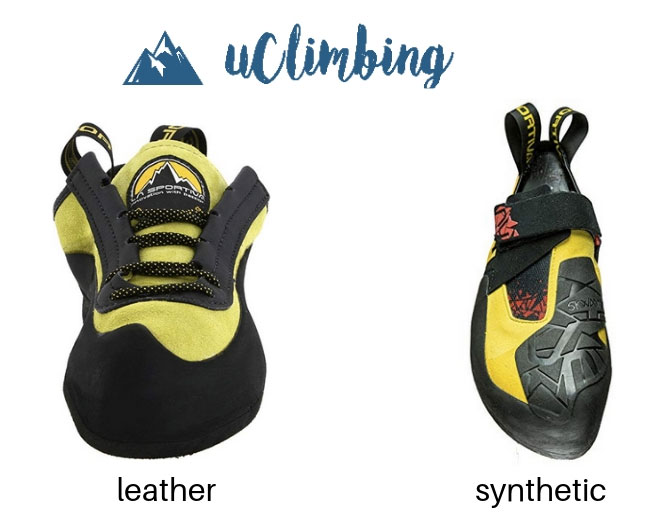 Bouldering shoes are generally made from leather or synthetic material.
Leather climbing shoes
Leather gives a nice next-to-skin comfort. They can be either lined or unlined. The unlined leather is more breathable, but it will stretch and expand over time. Lined leather is less breathable but won't stretch too much and will accommodate your foot comfortably.
Pros
Gives next-to-skin comfort
Breathable
Cons:
Synthetic climbing shoes
Synthetic materials are the most durable. It is also environmentally friendly which is important to a lot of people. However, synthetics have a tendency to develop odor overtime because the fabric is not breathable. It will not stretch much or soften up like leather to stretch and mold the contours of your feet.
Pros:
More rigid with less stretch
Durable
Can be cheaper
Cons:
Less breathable
Will develop odor over time
Best bouldering shoes for beginners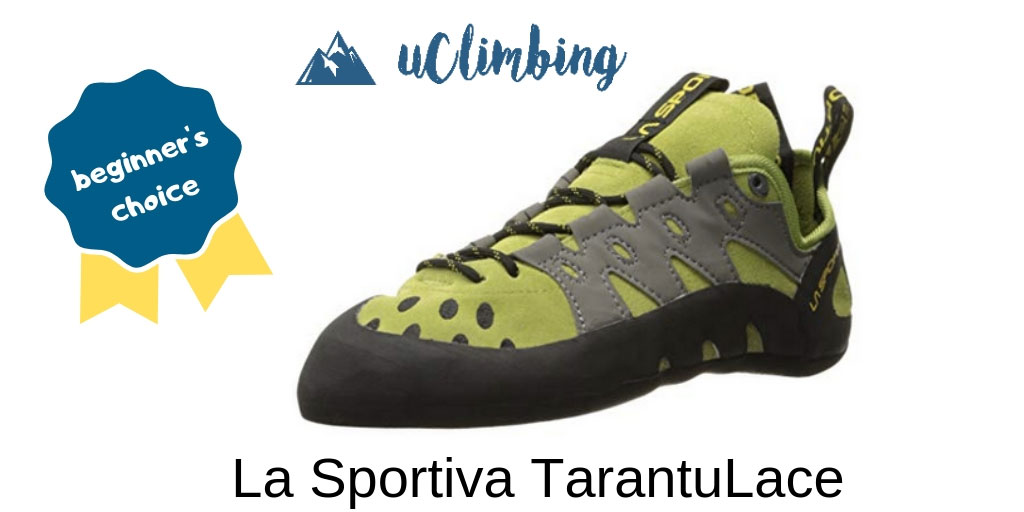 Our top pick for beginners is La Sportiva's TarantuLace range, available in both men's and women's sizes and a couple of colors:
There are no beginner-specific bouldering shoes as beginner shoes are not specialized. But as a rule of thumb, you need to go for climbing shoes that are well-rounded, comfortable and cheap.
If you are a beginner, you will feel more comfortable in flat shoes that have the least downturn. The shoes at the toe should be only slightly asymmetrical compared to the more pointed ones in advanced designs.
Go for a comparatively thicker sole measuring at least 4 mm is recommended so that it will be durable enough to last you through your learning phase. Comfort is the most important feature. It is a lot harder to focus on your climbing if your feet are hurting the entire time.
Aggressive climbing shoes
What are aggressive climbing shoes?
Aggressive climbing shoes have the most downturned design and are meant for advanced climbers. It has an extra heel tension to enable you to put your feet in a strong position when tackling challenging climbs.
This type of shoes generally has an asymmetrical shape that curves toward the big toe. It allows your toe to have more power so that you can get more accurate placements.
The outsole is usually thin and sticky, giving you increased sensitivity and maximum traction.
Pros:
Snug fit secures shoe to the foot for higher stability
Thin and sticky sole gives maximum sensitivity and traction
Cons:
Can be uncomfortable for beginners
Does not smear as effectively as neutral or moderate shoes
What are the top bouldering shoe brands?
Investing in a good pair of bouldering shoes will not only enhance your performance but will also make your climb safe and comfortable. Here are the top 3 leading brands in the climbing market, known for their high performance and quality.
Scarpa
Started in 1938 in the Dolomite mountain range in Italy, Scarpa (which means 'shoe' in Italian) is a multi-generational, family owned company has become synonymous with high performance, durable outdoor gear. This dynamic brand stands for quality, handcrafted footwear. Today, Scarpa continues to commit to excellence and diligence in their craft and ingenuity.
Mad Rock
Mad Rock was founded in 2002 and is based in Santa Fe Springs, California. It was started by Young Chu out of his passion for making affordable rock climbing shoes. This is a company that isn't afraid to embrace new materials and uses the latest technology to make high quality, innovative shoes and gear.
La Sportiva
The origin of La Sportiva goes as far back as 1928 in Italy. It is a leader in rock climbing shoes, and it produces high-grade shoes that are affordable. This is a rare deal with high performance outdoor and indoor climbing shoes.
Bouldering shoe reviews
Verdict: best bouldering shoes for beginners
If you have a sudden interest in bouldering, you are probably at a loss on what kind of shoes to buy. Picking the right shoe is very important in bouldering because it's the only gear you have and your safety depends on it. La Sportiva TarantuLace has combined the best features of climbing and hiking footwear. This shoe is designed to help beginners and intermediate climbers to hook, smear and edge like pros.
It has 5 mm of FriXion rubber sole, making it one of the thickest in the market. The patented FriXion RS at the sole also promotes durability and stability for beginners. It also has a lined tongue to promote moisture management for an odor-free experience.
Pros:
Odor-free
Quick-pull lace makes it easy to put on
Top-tier support
Durable
Cons:
Stretches after several uses
Verdict: best climbing shoes for avoiding odors
OXYGYM by La Sportiva could be the shoe for you. This women's climbing shoe is aimed at optimal gym climbing, and all experience level climbers can use it. It has three synthetic upper layers. The outer layer repels dirt and is washable in order to remove funk that usually accumulates in climbing shoes. The inner fabric is sweat-wicking and breathable. It has a patented hook-and-loop closure that allows for a personalized fit which is ideal especially for beginners.
These are very strong shoes designed for long lasting wear. It is best for people with sweaty feet or for hot climates.
Pros:
Washable and breathable fabric prevents odor
Keeps foot fresh and dry with breathable fabric that allows air circulation
Suitable for all climbers
Easy to adjust fit
Cons:
May run small
Relatively expansive compared to other similar shoes
Verdict: best bouldering shoes for aggressive climbers
Who says beginners can't have aggressive, powerful bouldering shoes? SCARPA Men's Instinct VS Climbing Shoe is a dynamic pair for climbing on steep terrain. The soft and durable Vibram makes it comfortable enough even for beginners to wear. It has a 100% textile upper and a synthetic sole.
The Vibram xs edge in the heel and forefoot has a grip that gives high traction. It also resists deformation when exposed to micro-flakes and edges. These shoes come in a Velcro closure and asymmetric toe profile for an aggressive heel hooking.
Like all high performing aggressive bouldering shoes, this one has a highly durable sole. Overall, the shoe performs well on slabby boulders as well as in overhanging gym routes.
Pros:
Rubber sole has medium thickness
Comfortable enough for beginners
Asymmetric toe for challenging climbs
Cons:
Narrow fit
Runs a little small
Bouldering shoes FAQs
How long should bouldering shoes last?
The longevity of your bouldering shoe depends on so many factors like the quality, where you use it, how well you take care of it, etc. If you take good care of your shoes by treating it with products like G-wax, if you aired it after every use and treated it properly, a good pair of shoes will last you for several years – provided you use it in artificial walls that are less rough and rugged. However, if you use it on real rock where the surface is more abraded, it will probably last you about 2-3 years.
Do bouldering shoes stretch? (and how to stretch them)
Most bouldering shoes will stretch after a couple of wears, especially those made from natural materials like leather and suede. If you need to stretch out your shoes before use, wear your shoes while taking a hot shower or bath (hey, at least you'll never slip!), then stuff with newspaper while they dry.
Climbing shoes are designed for performance, not comfort, so it's best to only change into them just before your climb.
How should I clean my bouldering shoes?
Don't put your bouldering shoes in the washing machine, it will ruin the sticky rubber. Instead, use a damp brush or sponge to gently remove any dried-on mud. If your climbing shoes have developed an odor, soak them in lukewarm soapy water. If they are super stinky (you'll know what I mean if you climb without socks), apply a liberal sprinkling of baking soda inside each shoe, leave for a few hours then rinse.
Do you need to wear socks with indoor rock climbing shoes?
When rock climbing indoors, going sockless can help you have enhanced feeling in the bottom of your foot, making it easier to feel for footholds. However, wearing socks can help stop your feet getting sweaty and your shoes sliding about. The choice is yours.