The best climbing shoes for beginners are notoriously difficult to choose. As a newbie, you're going to looking for the perfect pair of shoes, but I'll let you in on a little secret: you'll never find them! What I mean is, as a beginner to climbing or bouldering or mountaineering, your shoes will be uncomfortable until you get used to them. And you might have to go through a couple of pairs before you find your match.
But don't worry, it's not as bad as it seems: take a look at our guide to the best climbing shoes for beginners and you'll find the top shoes for novice climbers and anyone new to the sport. We also cover women's, men's and kid's sizes. Read our shoe reviews to hear about the good, bad and ugly of each shoe type, and if you have questions, chances are we've covered them in the FAQs.
Let's get started.
Quick answer: Best Climbing Shoes for Beginners
What are the different types of climbing shoes?
There are several different types of climbing shoes available on the market. Let's take a look at them so you can get a better idea of what you need.
Neutral Climbing Shoes
Neutral Climbing Shoes are designed to offer you a more relaxed fit, making it an ideal all-day comfort shoe. They come with a straight last that allows you to keep your toes in a more comfortable position. These types of shoes generally tend to have medium-to-hard midsoles coupled with bulkier rubber soles for support. Their relatively flat design makes it great for sliding into cracks.
Moderate Climbing Shoes
Moderate Climbing Shoes are more of an all-round shoe that has a slightly downturned camber. This allows you to keep your feet in a much stronger position, offering more control over your placements. They are an ideal choice for climbing challenging routes. They also have thinner soles and stickier rubber for better feel and grip.
Aggressive Climbing Shoes
Also known as performance shoes, aggressive climbing shoes tend to have a more downturned camber as compared to neutral and moderate climbing shoes. It's also designed to provide a lot of heel tension. This combination keeps your feet in a stronger position. They also have an asymmetrical last that bends your foot into a claw-like shape, which helps in transferring power from your legs to your forefeet for better grip on tiny overhangs and holds.
What type of climbing shoes are best for beginners?
When it comes to choosing the best climbing shoes for beginners, neutral shoes are always the best. The flat camber design, sticky rubber soles, and stiff midsoles offer the right balance of comfort and performance.
These shoes are not limited to just newbies or beginner climbers but are also ideal for experienced climbing professionals. As flat-lasted shoes, they are often used for extended multi-pitch climbs and crack climbing.
Climbing Beginner FAQs
Do You Wear Socks With Rock Climbing Shoes?
Whether one should or should not wear socks with their climbing shoes has been an ongoing debate. As a beginner, you can most certainly wear them. Climbing shoes doesn't pack much cushioning in it so that you have more sensitivity on your foot to feel cracks, rocks, pockets, edges, etc. As such, you'll experience discomfort at some point while climbing.
Having a pair of decent socks on will provide that much-needed additional cushioning for your feet, without compromising on your sensitivity and flexibility.
How Should a Climbing Shoe Fit?
When it comes to climbing shoes, most people pay more attention to how it should feel on their toes. As such, they inadvertently focus on how their entire feet would feel while wearing these shoes.
But there's really nothing new to know here. What you do need is to look for a snug fit, meaning there shouldn't be any breathing space between your feet and the shoe's sides. While climbing shoes need to be tight-fitting, you must make sure they aren't too small.
Although your feet shouldn't have any breathing room, that doesn't mean it should be squished either. By striking a proper balance between these two, you'll be able to maximize both the comfort and utility of your next climbing shoes.
How Much Should I Spend on Climbing Shoes?
As a beginner, you don't really have to spend much on climbing shoes. Getting a more expensive pair will undoubtedly provide additional features but do you really need it? You're a newbie, and so you shouldn't be worrying about powerful slingshot rand, aggressive downturn, asymmetric toe, incredible edging precision or top-notch toe, and heel hooking ability.
Chances are you barely know what half of these even mean to start with, but you don't have to. Your focus should be on enjoying and figuring whether or not you want to stick with the sport.
You can find excellent beginner climbing shoes at a much lower rate. You will be able to get yourself a nice pair for $50-$75, so expect to spend somewhere between that price range.
How Bad Should Climbing Shoes Hurt?
While putting on a pair of climbing shoes means having to bear a certain amount of pain, it shouldn't be to the extent where you're too uncomfortable to enjoy your sport. Avoid shoes that allow your toes to wiggle freely as such pairs will not stay firm when you place your toes on footholds.
You need to make sure your toes are comfortably curved or flat and that your knuckles aren't pressed agonizingly against the crest of your shoe.
How Tight Should Climbing Shoes Feel?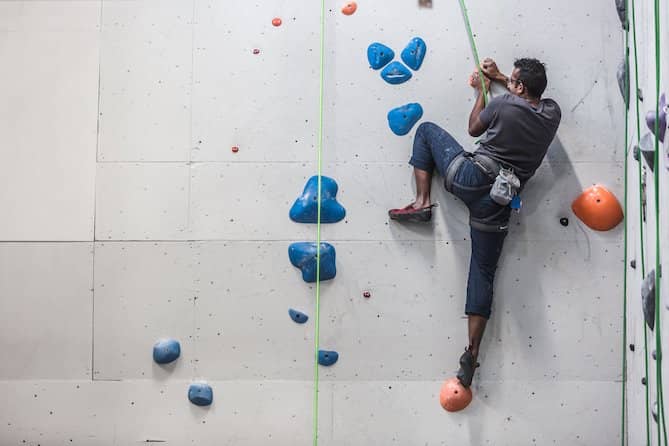 As a beginner, your shoe should fit comfortably. It should be a pair you don't mind wearing the whole day, one that allows you to walk without hobbling. They must feel snug against your feet, but not uncomfortable or tight.
After breaking into your new shoes, generally through a few climbing sessions, your toes may feather the end of your shoe. There may even be a small space between the toes and your shoe's tip.
Wearing a pair that's too tight might cause serious podiatry problems. You may develop corns, bruised toes, bunions, claw toes, nerve compression, and other fungal infections. This is why wearing snug-fitting shoes is the best.
Can You Climb Without Climbing Shoes?
As a new climber, you will most probably go for bouldering. If that's the case, you don't actually need to wear climbing shoes. However, having a pair of these can be quite helpful, will be more fun, and they aren't that expensive.
But if you take on more challenging climbs, you will most certainly require a decent pair of snug-fitting climbing shoes.
How Much Should Toes Curl in Climbing Shoes?
Again, your climbing shoe should have a snug fit and not feel too tight. Your toes can have a curl when you put on a new pair, but it shouldn't be painfully uncomfortable. If your feet are curved to the point where you are unable to either stand or walk, it's small.
Make sure you get a comfortable one, especially as a beginner you don't want to compress your feet. Your focus should be on improving your footwork, but if you are uncomfortable, your attention will be on the pain rather than your technique.
Women's Beginner Climbing Shoes
Evolv Elektra Women's Climbing Shoe Review
The Evolv Elekta Women's climbing shoe is an ideal for choice if you are looking for an affordable beginner climbing shoe. It has a synthetic upper that's comfortable and soft, and because they don't stretch much, it is quite easy to size as well.
It also comes with a VTR which stands for Variable Thickness Rand. This means the shoe has thicker rubbers in places that wear out easily. This is an excellent feature as it maximizes its durability and also helps in reducing toe bulge. While it can somehow make your toes a little less sensitive at first, the overall precision and sensitivity are quite adequate.
With low asymmetry, it makes your feet sit flat, without being uncomfortably curled. The flat shape also makes it easier for you to slide into cracks and also grips small cracks quite effectively. However, it has no downturn, and as such, it isn't ideal for steep climbing.
Overall, the Electra climbing shoe is an excellent choice for first-time female climbers as it offers both comfort and durability for an affordable price.
Pros:
● Affordable
● Synthetic upper increase its durability
● Reduces toe bulge
● Better grip for tiny cracks
Cons:
● No downturn
● Tends to hold stink more than leather
Climb X Rave Strap Climbing Shoe Review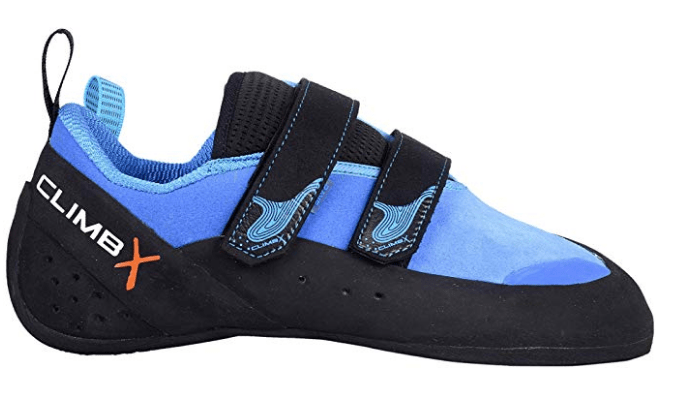 The Climb X Rave climbing shoe is another excellent product for beginners. Its highest selling points are, of course, its price and comfort. This shoe is an excellent choice for gym climbing.
It takes the shape of a more natural foot. It has a solid flat sole, meaning there is no downturn on this one. This makes it suitable for newbies and multi-pitch/trad climbers as it doesn't bend the foot. The rigid sole offers maximum support to your foot over longer routes so that you can wear it comfortably. It will even make it easier for you to stand on tiny edges.
The shoe also comes with a low asymmetry last that helps in striking a balance between performance and forced foot. It features a stretchable leather upper, which means the shoe will conform to your foot's shape over time.
There is an X-Factor rubber that helps to increase the durability of the shoe but doesn't offer the same sensitivity as other options. But, it isn't much of an issue, especially if it is for beginners or intermediate level climbers. At such an affordable price, you can't expect to get a high-end rubber found in elite performance shoes.
Overall, it is a great all-around shoe that boasts both versatility and comfort.
Pros:
● Durable
● Quite inexpensive
● Low asymmetry makes it ideal for females
● No downturn, which means less curved toes
Cons:
● Less sensitivity
Men's Beginner Climbing Shoes
Black Diamond Men's Momentum Lace Climbing Shoe Review
The Black Diamond Momentum climbing shoe is one of the newer range of climbing shoes from Black Diamond aimed at entry-level climbers. It features a flat last along with a comparatively soft sole. As for the toe area, it has a spongy micro-fiber liner that is meant to reduce stretch and increase comfort.
It is also slightly asymmetric than most beginner rock shoes, which means it offers a better performance without compromising on comfort. The midsoles are also quite flexible and incredibly soft, making it suitable to put it on for longer hours without experiencing any discomfort.
Also, the Momentum is built to fit different foot shapes. Its lace-up feature instead of Velcro, offers a higher possibility for adjustments, giving you a snug fit where it is most required. Additionally, it comes with a durable 4.3mm rubber.
Pros:
● Affordable
● Micro-fiber liner offers optimum comfort
● Soft and flexible midsoles
● Easy to adjust
● Durable
Cons:
● Not ideal for challenging climbs
● Not the best option for those with wide or narrow foot shapes
Five Ten Men's Anasazi Climbing Shoe Review
The Five Ten Anasazi climbing shoe is a flat-lasted, comfortable shoe for all kinds of face climbing and does a pretty good job at specific technical crack climbing as well. However, it is not the best choice for bouldering as the lace-ups are fussy and make it difficult to put the shoe on or off.
It also features a round and slightly asymmetrical toe shape, which offers better edging possibilities. Also, its medium-stiff sole and ultra-sticky rubber provides excellent support and does well with small footholds as well.
Overall, the Five Ten is something you should go for if you need a climbing shoe that is comfortable and durable.
Pros:
● Laces offer a precision fit
● It's flat last makes it suitable for all face climbing disciplines
● Stiff sole and sticky rubber provides better grip
Cons:
● Tying and untying laces is a bit difficult
● Shoe's tongue tends to move around
 La Sportiva Men's TarantuLace Performance Rock Climbing Shoe Review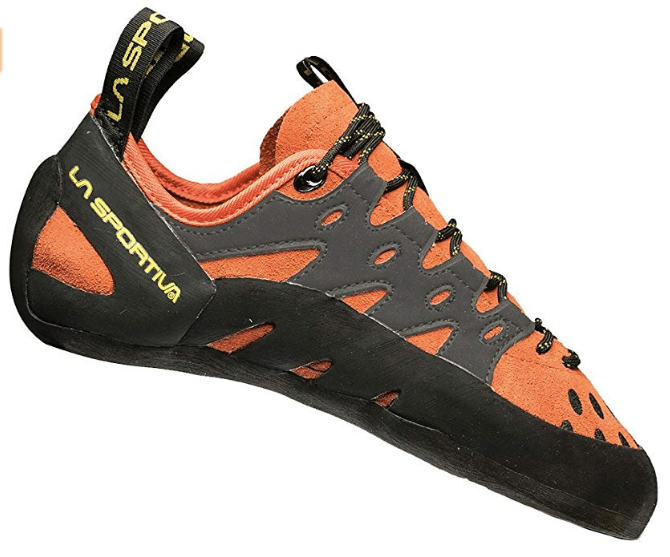 The La Sportiva Tarantulace climbing shoe is among the most versatile shoes for entry-level and advanced climbers. It is classified and considered as an all-round climbing shoe, meaning it'll suffice with almost all types of physical activity.
When it comes to crack climbing, this shoe will feel like you are wearing an All-Star shoe from Converse, meaning that it's as comfortable as it can be. It comes with a still sole to ensure that you stay put and also support your ankle and arch as it moves around.
Due to its stiff yet supportive sole, standing on cracks has never been easier. It is also flexible enough to mold into your foot's shape. The shoe's soft interior and exterior design will stretch and fit adequately and even conform to your foot's shape the moment you put it on.
Pros:
● Affordable
● Top-tier support
● Durable and stable
● Comfortable to wear
● Putting it on is easy
Cons:
● Proper sizing is a bit challenging
Kid's Beginner Climbing Shoes
Mad Rock Kid's Mad Monkey Climbing Shoe Review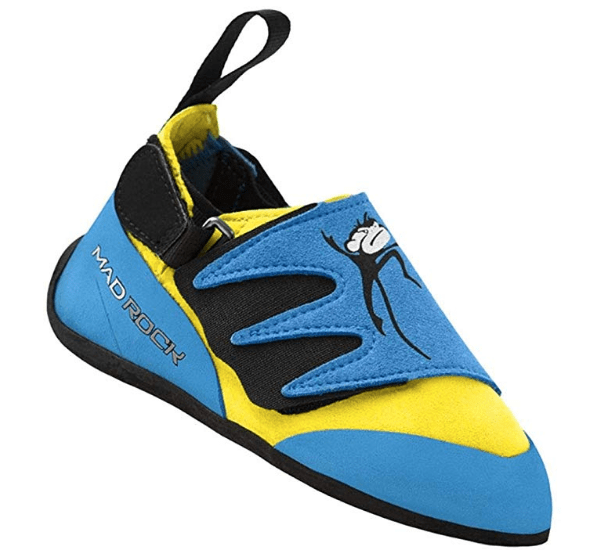 Mad Rock's Mad Monkey shoes are a popular climbing shoe for kids for many reasons. Firstly, they comes with a large hook & loop closure/ adjustment, which makes them easier to put it on and off. Also, the low price and its adjustable heel that helps in extending the shoe's durability makes this model an excellent choice for parents as well.
When it comes to easy-moderate crack climbing, it does a good job. The shoe has a neutral design and is pretty firm laterally so it'll perform well on slabby cracks as well. However, it does not have a lined or padded upper, so it isn't the best choice to go for steeper terrains or sharp cracks.
For a low price point, the Mad Rock is an excellent, all-round show for kids and anyone just entering the climbing sport.
Pros:
● Highly adjustable
● Easy on & off
● Inexpensive
● Ideal for easy-medium crack climbs
Cons:
● Lacks great performance
● Not that durable
Wrap Up
Now you should know a lot more about how to choose the best climbing shoes as a beginner, whether you need women's, men's or kid's shoes. Don't forget: the best way to find out if you've chosen the right shoes is to get out there and start climbing. See you on the wall!