A climbing machine is designed to help you work the same muscle groups you'd be using when climbing a mountain or bouldering wall. While you may not be able to get to the climbing wall or your favorite rock face everyday, you can make sure you keep building muscle and strength by working out on a climbing machine in your own home.
Climbing machines and surprisingly compact and affordable – keep reading to find out the best one for your needs and how to get started.
Let's go.
What is a Climbing Machine?
A climbing machine tries to recreate the movements of climbing up a mountain. It is a combination of both aerobic and cardio, along with strength training. This is different from a treadmill or a bike because you will be working out your entire body. The movements can be difficult at first, but it is very beneficial to your fitness goals.
The machine is not new; in fact, it has been around since the 1980s and has been garnering a lot of interest recently. It has a considerable following who swear by its effectiveness.
Climbing Machine FAQs
Are Climbing Machines a Good Workout?
The climbing machine has a lot of advantages compared to any other workout machine. It is very time efficient as you do not have to spend hours to reap its benefits. With a quick workout, you can get maximum benefits. As it is powered manually, it can only go as slow or fast as you want it to. Generally, workouts on a climbing machine last between 20-40 minutes.
The climbing machine is also a superb calorie burner. In a single 30-minute session, it is estimated that you can burn up to 800 calories. Not just that, you can even set the tone of your exercise and stop at any moment if you want to. If you are experiencing back or joint issues, this is a safe choice for you as it has minimal impact.
The best part of a climbing machine is that you will get a total workout. Just by changing the resistance, you can switch from a cardio-intensive to strength training. You will get to work out your butt, legs, arms, shoulders, back, and core all at the same time. Combining strength and cardio will not only save your time but also burn a maximum number of calories long after cooling down. This makes it an excellent work out machine.
Can using a Climbing Machine Improve Your Climbing Ability?
Climbing machines and vertical climbers are a great tool to hone your climbing skills. It is impossible (for most of us!) to go mountain climbing every day, but you can reap the same benefits and work out your whole body with the help of this reliable alternative.
Use this twice or thrice a week and get similar exercise benefits that you can get from climbing. The climbing steeper tries to emulate the movement you make while climbing, so it is a robust device that not only gives you a full workout but also helps you to improve your climbing skills.
What Muscles Does a Vertical Climbing Machine Work?
A vertical climber has the capability to workout virtually every part of your body. Using your legs and arms makes it a complete body workout. If you hold the stationary handles while sitting in your climbing position, you can mainly target your calves, quads, hamstrings, and glutes.
With the help of the arm motion, you can exercise your chest, core, back, and arms. Switching your grip on the handles between under-hand and over-hand will also target various upper body muscles as well.
They are also perfect for toning your muscles. With repeated use, each of your muscle group will tone up and become stronger. And this will aid you in your weight loss as muscles burn more calories than fat. After some weeks or months of exercising, you will see a noticeable difference as your body will become leaner. It is a low impact workout, so it's perfect for those looking for non-intensive workouts.
Climbing Machine Reviews
Maxiclimber® Review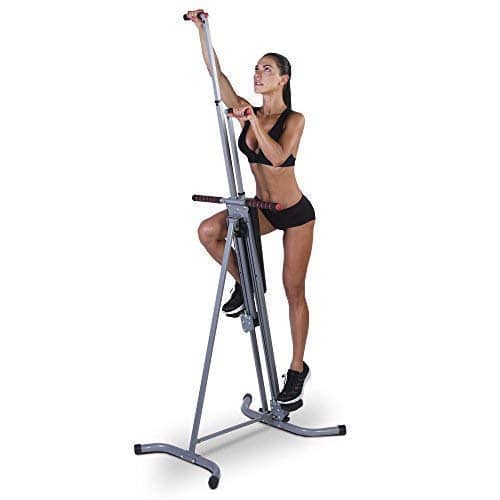 The Maxiclimber® Climbing Machine is a well-constructed and affordable vertical climber will allow you to perform muscle strengthening and cardio toning, lose weight, sculpt your body, and effectively burn fat. What's more? You can do all this fantastic stuff at the comfort and privacy of your home.
The Maxiclimber not just works out your lower and upper body but also your core, making it a reliable choice if you want an exercise machine that targets your entire body.
Inova, the manufacturer, and designer of this device swears that you can burn up to 45% more fat for every 24hour workout session.
Keep in mind that Maxiclimber is patented and the original vertical climber, so you are basically buying the machine that started it all. Why purchase something else when you can get the original?
In the unlikely event that you do not get any satisfactory results through the Maxiclimber, you can return it and get a refund as Inova provides a 30-day guarantee. That is how much faith the company has on their product. It is truly a fantastic product.
A considerable advantage of Maxiclimber is that it does not require you to use heavy weights or other heavy tools, as you will be using your own body weight for the workout. What does this mean? It simply means that it is a lot safer than other equipment as it minimizes the pressure exerted on your joints and prevents injuries and strains.
If you use it religiously, you will notice a considerable change in your body as it not only helps lose weight but will also makes you stronger and more toned. It is a superb device if you want a machine in which you can exercise daily.
Many tools are quite strenuous, but with Maxiclimber, you will have ample time to recuperate as it is a low impact exercise machine. This is what makes it such a great daily exercise machine; you will not feel any soreness or discomfort.
Since it so effectively combines strength and cardio workout in a single session, it will not only save your money but provide you with all the fitness benefits for your day. You don't have to buy several equipments, the Maxiclimber should be enough. It is designed to mimic the movements of mountaineering and climbing, so you are not only getting a full workout but also improving your climbing skills.
This device is pretty straightforward. There is no learning curve. All you have to do is place your legs on the pads provided and then hold the ergonomic handles. You can adjust the heights so that you can comfortably reach the machine. Once you are comfortable, you are all set to emulate the movements of climbing. The movements will come naturally to you and is super easy.
Overall, it is a solid product that works out your whole body and also provides climbing training. The cost-effectiveness will surely pull in a lot of customers.
Main Features:
• Supports up to 240 pounds
• Lightweight and height customizable
• Full body workout
• Low impact exercise
• Easy to use and versatile
Pros:
• Money-back guarantee
• Collapsible design
• Ergonomic design
• Bio x technology
• Automatic timer
• Adjustable height
Cons:
• Timer display is slow
• If you have severe knee pain, this may not be the right choice for you
Hurbo Vertical Climber Review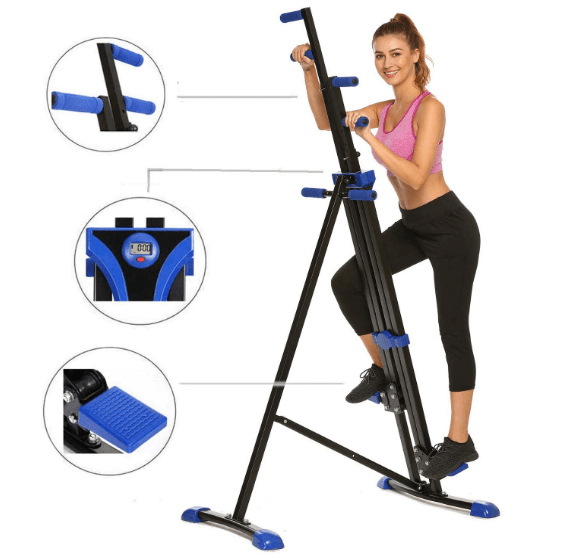 The Hurbo Vertical Climber is very effective in providing a total body workout. It tries to emulate natural climbing to achieve fitness and styling. With this bad boy you can sculpt lean and sexy legs, toned and rock hard abs, and contour your biceps and triceps. No portion of your body will be left out, and every area will receive equal attention for a truly healthy body.
It is ergonomically designed so that it suits every body type allowing almost anyone to reap benefits from this vertical climber. The Hurbo vertical Climber also claims that just 10 minutes of workout on their machine will equal nearly 30 minutes of running, giving you an intense all-round body workout while reducing stress exerted on your body's lower joints.
This climber has a sturdy construct and will last you a very long time. It is built with top-grade steel providing you with the best stability while you work out. Not just that, but it is also foldable, making it super convenient to access and store away. You can easily fold it and store it away when you are not using it.
It also features an LCD digital timer that will monitor and display your workout time, distance, speed, and the number of calories you have burned. Additionally, it will even record your workout time, and all the progress made using the vertical climber to encourage and motivate you to push further.
It has a maximum capacity of 350lbs so it can support even the heaviest of individuals and is height adjustable so you can set it to the right configurations for a comfortable workout. The climber handle is covered with thick sponge mats; The steel is also coated with high-quality anti-rust paint and constructed with super durable alloy steel, which will allow you to use this machine for a very long time.
It claims to burn over 500 calories an hour and is super effective for working and toning every portion of your body. No need to waste your money on several products, this is the only one you need.
For people that don't have a lot of time, it is super easy to assemble and get ready for your daily workouts. In just a few minutes, you are on your way to a healthy body. After you are done, just fold it and store it away, and you are good for the day.
Main Features:
• Easy storage
• Steel Frame
• LCD monitor
• Ergonomic design
Pros:
• Supports up to 350 pounds
• Easy and convenient to store
• Total workout
• Burns a lot of calories
• Monitors your progress
Cons:
• Replacement parts may take a while since it is manufactured in China
RELIFE REBUILD YOUR LIFE Vertical Climber Review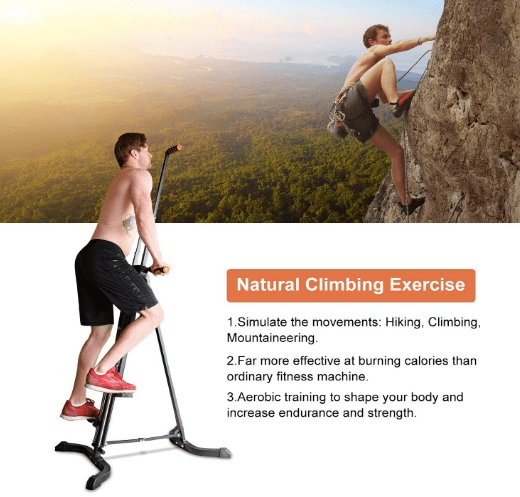 If you are new to vertical climbers or just workout machines in general, the RELIFE REBUILD YOUR LIFE Vertical Climber is the perfect machine for you as it is pretty simple to use. It all depends on how hard you want to push yourself. If you are a working person or just busy and don't have the time to hit the gym, investing in this machine will be a very wise decision. All it takes is a few minutes to deliver you a total workout.
If you are going to invest your hard-earned money on a workout machine, you have to be sure that the brand knows what they are doing. The company behind RELIEF REBUILD YOUR LIFE has been manufacturing workout machines for years, so you can be confident that you are investing in something that is sturdy, effective, fun, and innovative for people of every body type.
It is one of the more sturdily built vertical machines in the market while at the same time it is affordable. You will be hard-pressed to find a workout equipment as good as this at this price point. Thanks to its steel tube design, it will stay in place so you don't have to worry about falling over and can concentrate wholly on your workout regime.
It also features an onboard computer that stores and displays every data needed for your progress and far exceed even those found in more expensive machines. Not just that, but it can also make suggestions to lose weight and improve your workout routine.
This vertical climber from Relife is a great tool to tone all your muscles, slim down your figure, and improve the function of your heart and lungs as well.
Not only is it super easy to assemble, but you can also adjust it to five different positions allowing various body types to use it and can support up to 250lbs in body weight. It's a solid offering that will work out your whole body.
Main Features:
• 250lbs in weight capacity
• Sturdy but lightweight
• Five different positions
• LCD monitor
Pros:
• Great stability
• Good quality handles, soles, and pedals
• Supports various body types
• Exercises every part of your body
Cons:
• Rods may need lubrication
• Not suitable for houses with low ceilings
Wrap Up
Now you know all about at-home climbing machines and vertical climbers, it's time to start training those muscles! If you using a climbing machine to hone your climbing skills and increase stamina, you might also like to read our guide to the best climbing shoes for beginners, and the best climbing harness for beginners.
If you've got time for a good read, we also recommend you check out our top 10 rock climbing books.