The best climbing harness for you as a beginner is going to one that makes you feel secure, comfortable and well-supported as you grow in confidence and learn how to climb. Unless you're venturing off to do a very specific type of climbing (like ice climbing), a general purpose climbing harness will be suitable for most indoor climbing walls and outdoor climbs.
We've got the answers to the most popular climbing harness FAQs and the best-selling harness reviews to help you find the top harness for your next climb.
Let's get to it.
Quick Answer: Best Climbing Harness For Beginners
What is a climbing harness?
A climbing harness helps to attach your body safely to a rope or an anchor point to prevent you from falling. It features several parts such as buckles, straps, and loops. It is an essential item that every rock-climbing needs in their equipment kit. It
There are various types of harnesses designed for different climbing activities. Here are the three main types of climbing harnesses:
● Sport or gym climbing harness: Just as the name suggests, these are generally meant for indoor climbing activities at the gym or indoor climbing centers. It only requires two gear loops.
● Ice climbing harness: They are explicitly developed for climbing in challenging conditions. In most cases, you'll need more than four gear loops, an adjustable leg buckle, and additional lumbar support.
● Alpine harness: These are the strongest, durable harnesses and are typically used for more challenging mountain climbs. They're also lightweight, inexpensive, adjustable to any body type, and are water-repellent.
What features should I look for in a climbing harness?
No matter what type of harness you go for, each harness share similar basic features. However, even though they might look quite similar, harnesses are designed using different materials and construction techniques to improve performance for different variants of climbing. With that in mind, you'll need to know the difference between each, and what the pros and cons may be so you can choose the best harness for your needs.
Features to look for in a climbing harness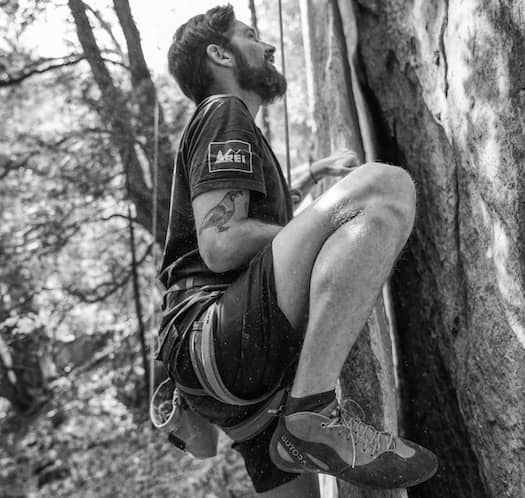 Here are some features you should look for in a climbing harness:
● Gear loop: It is a significant feature to look for as it allows you to carry all your most essential climbing equipment.
● Belay loops: It is a very rigid loop that enables you to fix your belay device through the carabiner to secure your climbing partner.
● Elastic risers: It lets you adjust the space between your waist belt and your leg loops.
● Clipper slots: If you're getting a harness for ice climbing, you should look for one that has this feature. It is an extra slot that allows you to secure your ice screws.
● Buckles: It is another crucial feature to look for while picking your harness. Also, for quicker and easier access, most harnesses feature auto-locking buckles.
● Weight: Before getting a harness for yourself, you need to check its weight. Typically, the heavy harness comes with more padding, additional gear loops, and some other extra features.
While the padding in your waist belt may offer more comfort, you need to make sure that all these additional features don't increase the overall weight of your harness.
● Harness construction: Bulkier harnesses tend to have poor breathability and are cheaper. If you opt for an expensive one, you get a light padding, which is more comfortable and offers more ventilation.
● Safety: Harnesses are an essential item in your climbing equipment kit. It will help to keep you safe and prevent accidents. It is crucial to check if the one you get comes with safety features.
Climbing Harness FAQs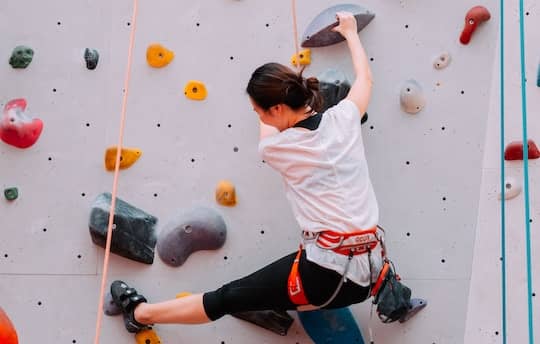 How tight should a climbing harness be?
A harness shouldn't be too tight or too loose. It should be close enough for you to stick your fingers in between you and the harness. Anything more than that is not recommended. If it's too tight, it will be uncomfortable for you to walk or stand. If it's too loose, it will ride upwards when you are hanging.
Based on your body type, you will either hone the harness on your hips or your waist (right above or below your navel). If you have much wider hips than your waist, you will be more comfortable sporting the harness on your waistline. If your hips and waists are of the same size, wearing it over your hips will feel much comfortable. Also, most women generally wear it on their waists.
How much weight can a climbing harness hold?
According to the ANSI, the weight holding capacity of a climbing harness ranges between 130 lbs and 310 lbs.
The ANSI (American National Standards Institute) plays a significant role in how harnesses are made. ANSI is an organization responsible for forming safety testing guidelines and safety specifications for most of the protective gear, including the harness.
As such, most  standard harnesses can hold up to 310 lbs while some can even hold up to 500 lbs.
How much does a climbing harness cost?
The cost of a good harness will depend on the brand, the material, the size, and some other features. You can also get it at a much cheaper rate as the price doesn't always reflect the item's quality.
Alternatively, online retailers sell climbing harnesses at a lower price, and so you can save more money if you purchase it online. Also, it will allow you to make a price comparison of different items. That said, some of the best climbing harnesses will cost you around $50 to $150 on average.
When should I replace my climbing harness?
You need to replace your climbing harness if it starts showing signs of extreme wear and tear or any damage to the item's structural webbing and belay loop. These signs include webbing discoloration, buckle damage, abrasion marks on its bar-tacks, and of course fraying.
To avoid, overlooking these hints, always inspect your harness before and after using it. If you do find any of the signs I have mentioned above, ditch it even if you have owned it for just a month. Your safety comes first.
However, damage to the gear loops and non-structural padding isn't much of an issue.
Even if you have taken good care of your harness, you should replace it if you have been using it for more than seven years. Also, if you are a professional climber, you need to get a new harness after one year of its initial use.
What is the difference between men's and women's climbing harnesses?
The one significant difference between a men's climbing harnesses and women's is the rise of the climbing gear. The rise refers to is the length of space between leg loops and the waist belt.
Women-specific harnesses usually come with a longer rise to help accommodate their wider hips. The harness also tends to be more curved, making it easier to fit around a female's body. On the contrary, men's harnesses are generally of straight design, featuring a much shorter rise.
More notably, both categories of the harness are available in different sizes and as such the rise length varies within these types as well. Most manufacturers develop these gender-specific gears with average body figures in mind.
How long can you hang in a climbing harness?
Harness suspension is a necessary and accepted part of any climbing activity. The harness offers a soft interface accompanied by a life-supporting/safety rope in real or potential high-angle settings. If you happen to fall or lose consciousness, the harness remains intact with the cable allowing you to climb back up or be rescued.
While remaining unconscious or suspended is more preferable than falling, it is not without risks or management issues.
It recommended to stay suspended in a harness for no more than 5 minutes. You might risk having a suspension trauma, a state of shock caused by passive hanging that could potentially lead to death.
What is a haul loop on a harness?
A haul loop is a small webbing attachment located at the back of your waist belt. They are mostly sewn and provide full strength. You can use it for trailing a rope for aid climbing, long climbs, and big walls.
Also, most of these are non-structural so avoid using it as a primary attachment point. That being said, they are quite useful for clipping chalk bags and other equipment onto the back of your waist belt.
The Best Climbing Harness Reviews
Black Diamond Momentum Harness Review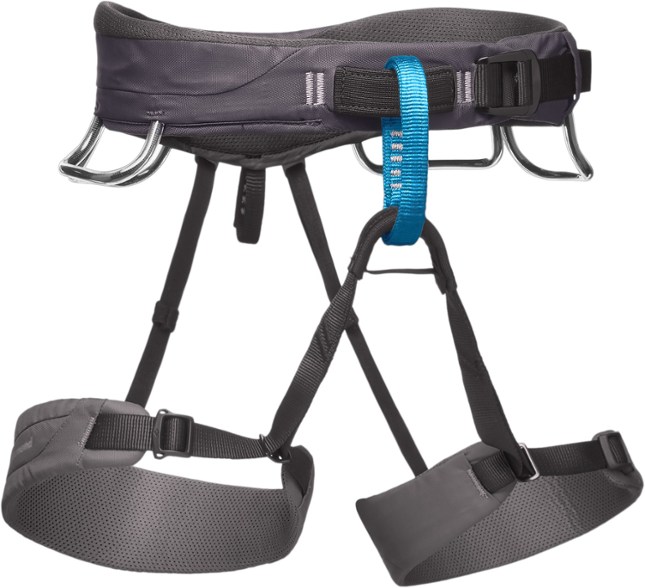 The Black Diamond Momentum Harness is a frills-free harness that is among the more affordable options for climbing beginners, yet it offers nearly the same performance as its high-end Black Diamond variants. While it isn't the best out there, it works just as great as a trad climbing as well as gym training harness and does a pretty decent job at clipping bolts.
One of the best features of Momentum is its leg loops. It features a single, heavily padded strap that offers a reasonably comfortable experience and is easily adjustable. It also has auto-locking buckles, large haul loops for easier clipping, and flat, firm gear loops.
While we love it's easily adjustable leg loop, the bulkier waist belt and less-than-average gear loop size limits its versatility. That said, it is an excellent harness for beginners as well as professional climbers to be used at the gym or the sport crag. It is also excellent value for money.
Pros:
● Affordable
● Highly adjustable leg loop
● Ideal for beginners
● Auto-locking buckles
● Decent belaying comfort
Cons:
● Tiny gear loop
● Bulkier waist belt
Oumers Safe Seat Belt Harness Review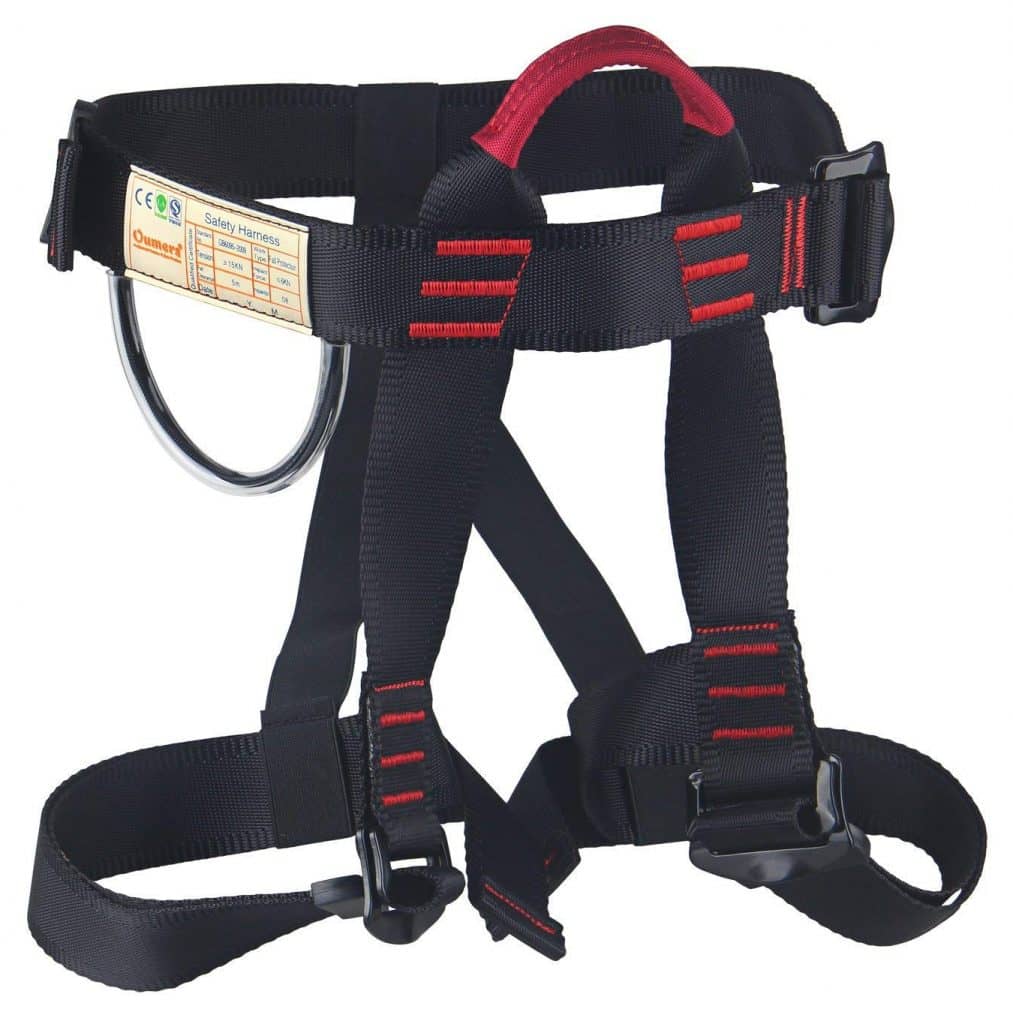 The Oumers Safe Seat Belt is another excellent entry-level harness that is designed to withstand the user's weight for an extended period. It is one-size-fit-all climbing gear, meaning it can fit women, men, and even children.
It also boasts a weight holding capacity of up to 500 lbs. The leg loop and its belt portion feature a breathable mesh lining, which makes it comfortable to be worn even on hot weather conditions. Meanwhile, the waist belt on this device comes with double-back buckles that make it super easy to adjust and requires just one motion to secure it.
If you're a beginner and are looking for an affordable harness to help you with your climbing journey safely and securely, this product is an excellent option to start with. While it is ideal for gym climbs or park activities, you can also use it for mountaineering, rock climbing, caving, and fire rescue.
Pros:
● Fits all body shapes
● Very affordable
● Breathable mesh lining for better comfort
● Easily adjustable waist belt
● Ideal for gym, mountaineering, rock climbing, caving, and fire rescue
Cons:
● Not meant to be used for longer suspensions.
Weanas Thicken Climbing Harness Review
The Weanas Thicken Climbing Harness is one of the cheapest options on our list. And for a product that has several positive reviews online, you're looking at a harness that doesn't compromise on performance.
The design is quite simple, and though it doesn't pack many additional features, it does a pretty decent job. The manufacturer claims it to be a one-size-fits-all harness, meaning it is ideal for all body shapes.
It is also intended to be used for both indoor and outdoor climbing. However, experienced climbers might want to look for one that is a bit more durable. Some users found it a bit difficult to adjust the harness.
That said, this harness is still worth a try. And even though it requires some effort when it comes to fit, no further adjustments are needed if the same person wears it consistently after the first one.
Pros:
● Simple look and feel
● Very inexpensive
● Fits all body shapes
Cons:
● Less durable
● Available in just one color
EDELRID – Jayne II Women's Climbing Harness Review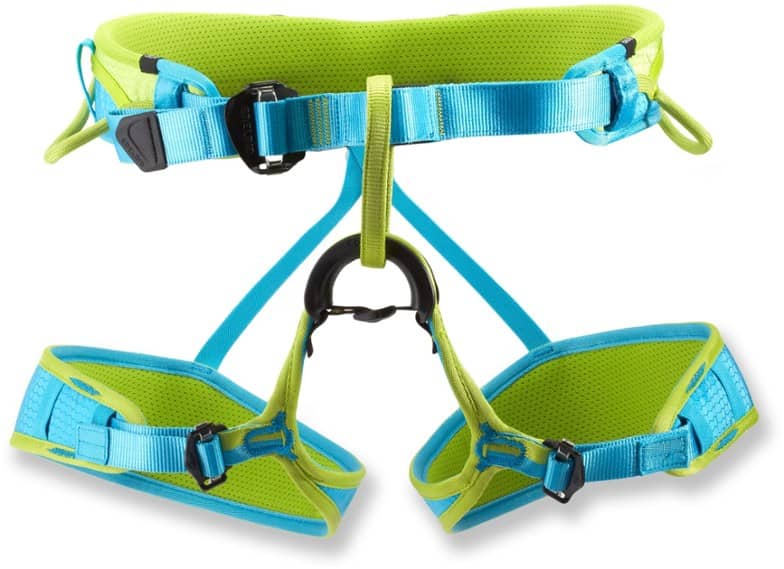 The Jaynee II is an excellent all-round harness for women and is ideal for most categories of climbing disciplines. This model by EDELRID features side block buckles on its legs, and waist loops meant for easy adjustability.
It comes with a sliding waist belt that allows you to position the belay loop correctly. While the tiny loop at its back can be used for haul lining, it is quite difficult to get the carabiner in or out of it.
If you need a harness for ice climbing, this one might be an ideal choice as it comes with two ice clipper slots. It also has a slimmer back for chimneying.
As for comfort, it ranks average in terms of hanging and standing. It is durable, and the plastic reinforcement on its tie-in point will further enhance its longevity. Overall, it is a pretty versatile climbing gear and is comfortable enough for extended routes. The only drawback with this one is that it lacks a haul loop.
Pros:
● Versatile climbing harness
● Adjustable leg and waist loops
● Sliding waist belt
● Two ice clipping slots
● Ideal for women
Cons:
● Doesn't have a haul loop
● A little expensive
Wrap Up
Now you should have a good idea of what climbing harnesses are designed to do, and how to find the best fit for both your body type and climbing terrain. The best way to find out more is to get out there are start climbing with it, so what are you waiting for, let's get climbing!
Don't forget to check out our guide to the best climbing shoes for beginners, too.