Rock climbing is not something you can master in a day. It requires a tremendous amount of practice, dedication, and perseverance. Molding the necessary skills is something that happens gradually as climbers gain confidence and strength.
One of the best ways you can achieve this is by training off-season so that you are fully prepared when the climbing season starts. Numerous products can help climbers with their training, and one of these is a hangboard.
What is a Hangboard?
A hangboard is a plastic or wooden board with numerous grooves or holes cut into it that you can grip on to using your fingers. hangboards are usually firmly attached to a beam or wall, to recreate the sensation of rock climbing.
Hangboards are a great tool to help you practice rock climbing. It is primarily for training your fingers but it can also strengthen your torso and arms.
Most hangboards are provided with installation guides and most even provide the hardware. Mounting is not an issue but finding the best spot is. Mount it in a room where you can have ample space to move around.
What is a Fingerboard?
A fingerboard is pretty much the same as a hangboard, save some subtle differences. A fingerboard is constructed with either resin or wood and can be as large or small as you desire. Traditionally it fits above your door frame and must consist of numerous holds along with slopers, a few pockets, and different sized crimps.
Climbing hangboard FAQs
What are hangboards for?
Hangboards are used by climbers for endurance and strength training. They successfully emulate the sensation of rock climbing so that you have an idea of what it would feel like when you actually go rock climbing. They are also highly recommended for beginners before they actually indulge in climbing.
How does a hangboard make me a better climber?
The goal of a hangboard is to build the strength of your fingers, which is crucial for rock climbing. They can also successfully strengthen your torso and arms. Another advantage of a hangboard is that they allow climbers to enhance their holds and practice their techniques before they actually go rock climbing.
How often should I use a hangboard?
In the beginning, it is recommended that you utilize a hangboard two times a week with plenty of rest in between. You won't be able to see instant results, but with enough time and perseverance, you will notice improvements after 4 or 6 weeks of training outdoors and indoors.
What hangboard does Alex Honnold Use?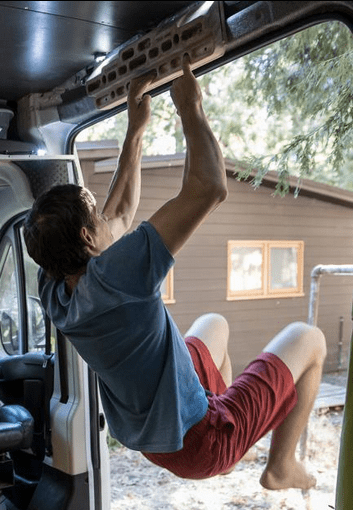 Alex Honnold is a world-class climber, and he perfects every single hold before attempting it. His movie Free Solo provides an intimate look into his life and through that movie, we can see that Alex swears by the Beastmaker 2000.
This hangboard has been around since 2008, and since Honnold lives in a cargo van, it makes perfect sense that he would prefer something that is not very large or bulky. Be warned, though: the Beastmaker 2000 is not for beginners!
Alex's book came up in our list of the best rock climbing books, so we recommend checking that out if you're interested in learning more about his climbing stories and techniques.
How do you clean a hangboard?
The best way to clean a dirty hangboard would be to use a power washer. If you don't own one, you can borrow one from someone who does, or rent from a DIY store.
Muriatic acid is also a good option, but you have to be very careful and make sure you are using protection. Vinegar washing is also a viable option, and many climbers swear by it.
Should I hangboard before or after climbing?
It is more recommended that you use a hangboard before climbing. It will be the perfect warm-up exercise. Hangboarding will also strengthen your fingers so that you can grip more comfortably. Make sure that you do not exercise too intensively so that it will not affect your capacity to climb.
Now, let's get into the best hangboards you can get to up your grip game.
Hangboard Reviews
Beastmaker 1000 Series Hangboard Review

The Beastmaker 1000 Series Hangboard is a solid choice for those who are looking for an ergonomically designed model. It is suitable for those who are new to training and rock climbing but are looking for ways to progress quickly.
This board is recommended for those who climb 5a up to 7c or maybe even further if you desire for some one-armed dead hangs. The Monos and dirty 45 degree slopers which are very prominent on the Beastmaker 2000 have been eliminated to provide room for more options on the pocket depths and some jugs.
It is constructed with very soft texture wood which will be gentle to your skin. And to prevent your fingers from tweaking, the holds have been radiused.
Main Features:
• Wooden hangboard
• Easy installation
• Skin-friendly
• Hold and workout positions
Pros:
• Lightweight
• Various holds
Cons:
• Since the hangboard is made from wood and hand-sanded, tiny imperfections may appear
Project by Metolius Hangboard Review

The Project hangboard is another remarkable offering by Metolius. To provide perfect symmetry to this hangboard, it is ground with precision CNC. This also allows it to have a smooth texture which is not just comfortable for a grip but also gentle on your skin.
Project By Metolius also possesses a tapered shape that provides your forearms with excellent clearance and prevents you from scraping your arms while training.
This offer from Metolius measures 24.5 x 6 inches and contains holes evenly spread throughout the arc of the board. This makes it possible to try out different numerous workout routines while training.
Metolius provides this board with detailed instructions to simplify your installation process and also comes with hardware to install the board. It also provides a training guide which is highly beneficial both for experts and newbies.
The hangboard comes in three vibrant colors: black & white, green, and blue, so the choice is yours!
Main Features:
• Mounting hardware provided
• Training and instruction guide included
• Smooth texture for comfort and reliable grip
• Perfect symmetry
• Tapered shape to allow forearm clearance
Pros:
• Great for strength training
• Excellent range of holds
Cons:
• Screws provided are mediocre
Get Out! Doorway Hangboard Review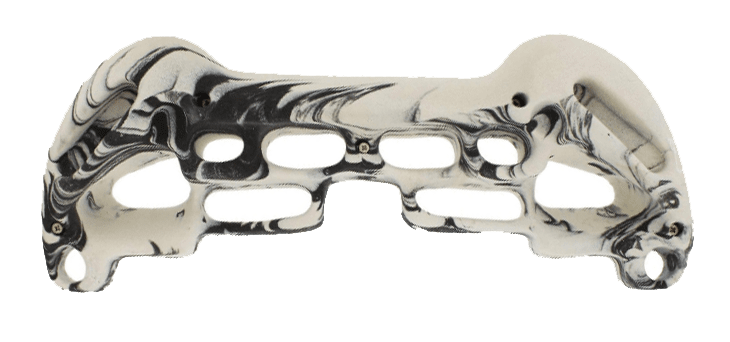 The Get Out! Doorway Hangboard simulates various holds to increase your fingers' strength, tone your upper body, rectify various weaknesses in your training regimen, and gauge your progress as well. This hangboard is a great tool to prepare for OCR, martial arts, or backpacking.
It even comes with an instruction manual and mounting hardware included with the hangboard. With this hangboard from Get Out! You can perform eight exercises: Dead Hang, Bent-arm hang, offset hang, pull up, offset pull up, one arm pull up, L-hang, and front lever. There are various holds that are suitable for warm-up exercises and strengthening your fingers.
The ergonomically design and the downward and upward tapers prevent injuries during training. It is crafted with a wonderful texture to provide you with the most comfortable training experience.
Main Features:
• Mounting kit provided
• Very smooth texture
• Various holds
• Very Durable
Pros:
• Great for strength and finger training
• Very well built
• Can support eight exercises
Cons:
• Heavyweight
• Screws provided are too short
Metolius Rock Rings Review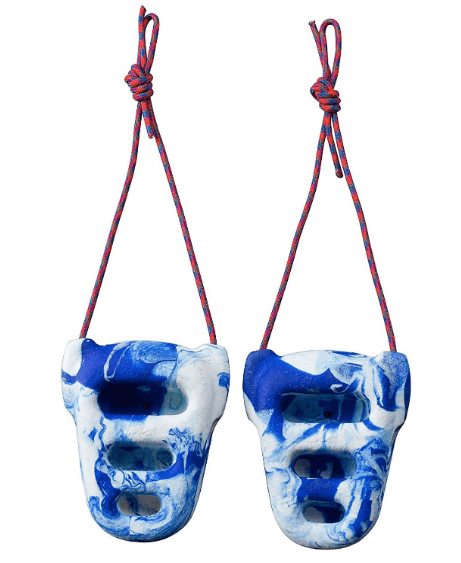 If you want something that is more portable and does not require you to hang something on your home, then the Metolius Rock Rings 3D is a solid choice.
This portable training tool provides two independent units, both of which are flexible and has a single point suspension. This is helpful as it allows for the rotation of your joints and prevents the occurrence of injuries while training.
Owing to the CAD/CAM design, this portable training unit possesses a perfect symmetry. The fingerboard contains three groves of numerous sizes which makes it possible for you to practice four, three, and two-finger holds.
The fine texture will also provide you with a comfortable grip without aggravating your skin. A comprehensive instruction on how to use and hang them is provided along with the unit. Even though they are marketed as a portable unit, you still have the option to fix them at your home permanently. If you desire to, they have a manual that comes along with the product.
They also provide a training guide with training recommendations. You can get this unit in three different colors: green swirl, blue swirl, and black/white swirl.
Main Features:
• Training guide and instructions provided
• Excellent symmetry
• Prevents injury
• Portable as well as the option for a permanent fixture
Pros:
• Smooth texture
• Portable
• Lightweight
• Perfect for training in tight spaces
Cons:
• Surface can become slippery – best to use plenty of chalk
TRANGO Rock Prodigy Training Center Hangboard Review


If you judge it on the number of workouts it provides, the Rock Prodigy Hangboard from Trango is arguably the best in the market.
This is a two-piece hangboard unit that will aid you in enhancing your precision and finger strength. With this product, you can practice four, three, and two holds. The grooves vary in-depth, so you get both shallow and deep sections. Variable edge rails, pinch grips, crimp grips are also provided which allows you to tune your precision and repeatable finger placement.
This hangboard from Trango exercises every single one of your fingers, and it supports over 30 finger placements. The jug, pinch, and sloper possess a double texture for a secure grip, whereas the positive surfaces maintain a sole texture to prevent injuries.
To safeguard the non-active fingers, the non-hold sections are smooth. The ergonomic design will allow you to attach the parts to your wall in such a way that it copies your shoulder width. This prevents injury, and the board is joint-friendly.
Constructed with polyurethane, a mounting hardware is also provided along with this unit to get you started.
Main Features:
• Mounting hardware provided
• Prevents injuries and joint-friendly
• Various textures
• Numerous depths
• Different workout options
Pros:
• Excellent texture similar to gyms
• Solid friction and adjustable width
• Ergonomic design
Cons:
• Installation is time-consuming
Metolius Foundry Training Board Review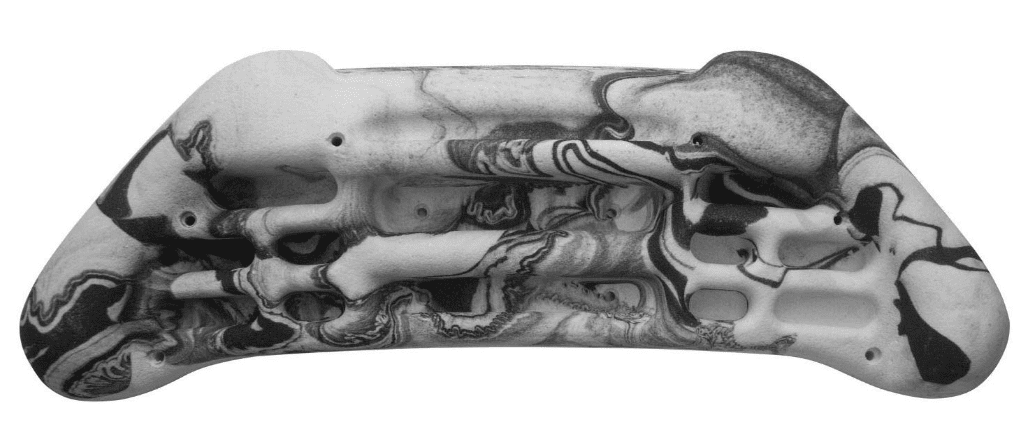 The Metolius Foundry Training Board is one of the heavier hangboards on the market, measuring 32.5 x 11 inches and 2.63 thick. But that broad surface has its benefits: you will be able to practise various workouts and holds as the ergonomic pinches provide multiple depths. This will give you a full workout of not just your fingers but even for your shoulders, and arms.
Owing to the CAD/CAM milled design, this board boasts perfect symmetry. The fine grain texture also means that you will have a solid grip and at the same time, avoid abrasions. This board from Metolius is also so cleverly designed that your forearms will have amble clearance and also prevent injuries. It has 11 pockets, two types of slopers, pull-up jugs, and four central edges with some deep and some shallow.
A very comprehensive training guide is also provided to get you started.
Main Features:
• Excellent symmetry
• Training guide provided
• Instructions and mounting hardware
• 11 pockets
• Ergonomic design
Pros:
• Excellent texture and shape of pockets
• Supports a wide range of exercises
• Very sturdy build
Cons:
• This thing weighs a ton
Metolius Simulator 3D Hangboard Review

The Metolius Simulator 3D is a popular composite hangboard available in 4 mottled colors. Metolius is known for their unmatched offerings, and it is no wonder rock climbing lovers garland the Simulator 3D. It is constructed with resin to provide a durable and sturdy hangboard, and the fine texture will offer you with the most comfortable grip while training.
Measuring 28 x 8.75 inches, the Simulator 3D is constructed with CAD/CAM and made with CNC precision milled technology which provides the absolute best symmetry. The holds are placed throughout the broad arc for an ergonomic design.
For better forearm clearance and avoiding injuries, the arch is tapered both outward and downward. The unit comes with full instructions to help you mount it in your home and installation the hardware.
It also comes with a comprehensive training guide for beginners to strengthen their fingers.
Main Features:
• Training guide included
• Nice color options
• Durable material
• Excellent grip
• Perfect symmetry
Pros:
• Very solid and can support even large individuals
• Supports 2,3, and 4 finger holds
• Great for training at home
• Good texture
Cons:
• Steep price
• Some holds could be deeper
Wrap Up
Now you know all about climbing hangboards (or fingerboards) and how to choose the best one for your home. The next step is to get practicing and start working out those fingers. Get to it!